Are you spending a fortune on Copyright Free or Royalty Free Images? Even worse, are you using any image you find on Google and using it for your blog?
There are consequences that go along with using Copyright images so here is how to find free to use images that you can even modify searching images on Google Images.
Generally, bloggers will go directly to Google and capture one of the first images they come across in the search to use on their blog. Snagging copyrighted photos that are not royalty free images can get you into a good deal of trouble. It's never any fun receiving one of those serious letters from a Legal Department demanding $1000 per image. So here is how to best avoid using any image that may get you in a Copyright infringement.
Find Free to Use and/or Edit Images Using Google Images
Yep, that's right, you can find free to use image using Google Images and it's extremely easy to do.
1) Search for any image on Google Images as you would usually do.
2)  Click on "Search Tools", then click "More Tools", then click the image type that you are looking for.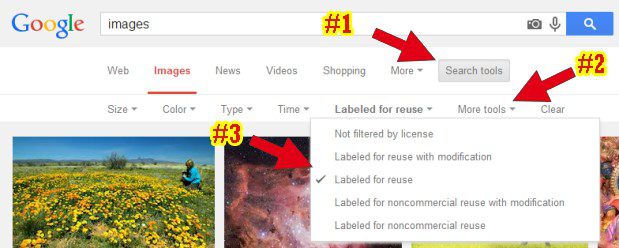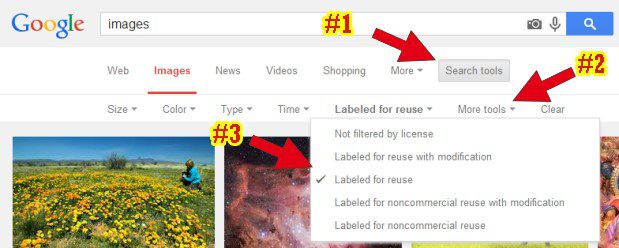 Here are the different usage rights options available:
Your results will only include content that is either labeled as public domain or carry a license that allows you to copy or redistribute its content, as long as the content remains unchanged.
Labeled for reuse with modification
Your results will only include content that is labeled with a license that allows you to copy, modify, or redistribute in ways specified in the license.

If you are unsure if any image is free to use:
Before reusing content that you've found, you should verify that its license is legitimate and check the exact terms of reuse stated in the license. For example, most licenses require that you give credit to the image creator when reusing an image. Google has no way of knowing whether the license is legitimate, so they aren't making any representation that the content is actually or lawfully licensed.
If you find content with the wrong usage rights in the search results, let Google know by reporting it in the help forum.