It is well proven the consistency of branding across all your marketing platforms creates additional credibility and professionalism to your business.
It is also very important to keep your Social Media branding consistent throughout all of your Social Media profiles as well.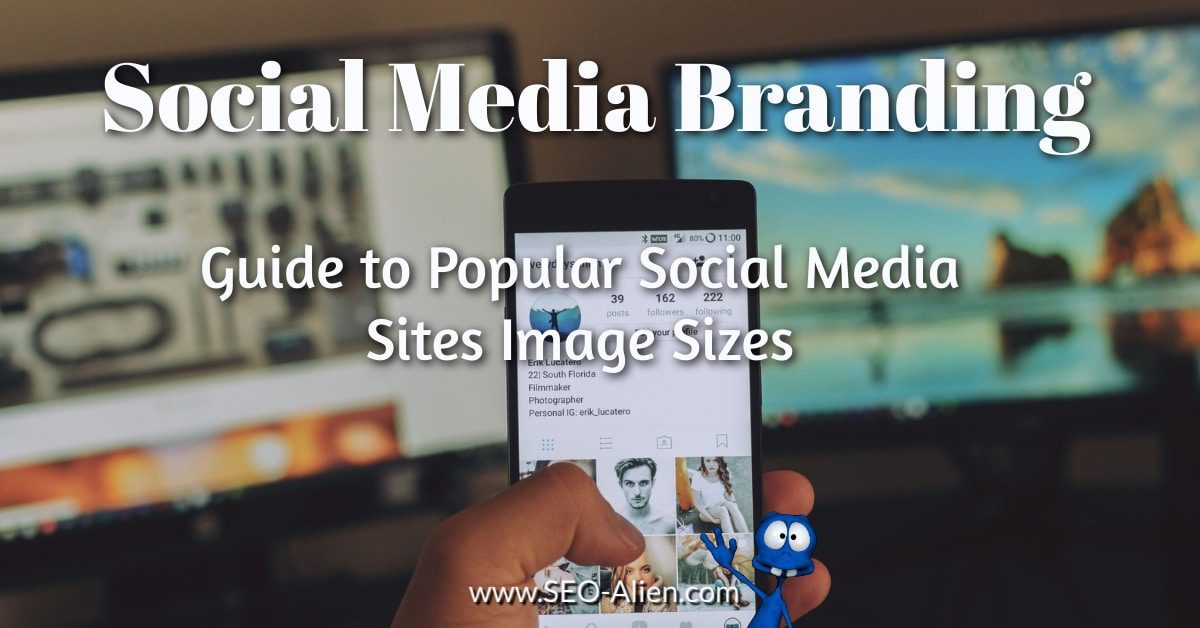 Social Media Image Sizes
Facebook | Twitter | YouTube | Triberr
3 Reasons Why Social Media Branding is Important!
Memorability. A brand serves as a convenient container for a reputation and people are more likely to save your site (bookmark) and return. It's hard for customers to go back to "that whatsthatname site".
Loyalty. When people have a positive experience with a memorable brand, they're more likely to buy that product or service again than competing brands.
Familiarity. Branding has a big effect on non-customers too. Psychologists have shown that familiarity induces liking.
So what are you waiting for! Let's start branding your online business!
Branding is not only creating a consistent message through-out all of your Social Media about your company/product or service, it is also creating consistent company profile and banner images.
The SEO-Aliens Guide to Popular Social Media Sites Image Sizes
I think one of the biggest challenges any business has is creating a consistent Social Media branding image through-out social media. The biggest reason is simply because of all the different image sizes that you have to create in order to accommodate all the social media sites variety of image sizes.
Each Social Media site has a different banner image size, profile image size, background size, etc. Creating all these different images could cost hundreds if not thousands of dollars. There are sites online that will allow you to create the different images you need, but most important is knowing the sizes ahead of time so you can create your own Branding Image Package that you can use any time you need it.
This article will cover the most popular social media sites graphics sizes and how to create a consistent Social Media branding image.
Before we start talking image sizes, let's begin with image software and image sites that you can use to create your Branding Images.
Premium Graphic Software
PhotoImpact X3 is the most affordable, professional Photo/Graphic software that I use and is comparable to PhotoShop, but for a fraction of the price. PhotoImpact X3 is very flexible and simple to learn.Take advantage of this special offer and Save $40 on

Corel PhotoImpact X3

. Was $69.99 Now $29.99. Limited Time Offer
Free Online Graphic Editor
A flexible free online image creator is Pixlr.com. However, it is not anywhere near as flexible as the PhotoImpact software above.
The easiest Free online picture editor is drpic.com. Again, I would only use these options if you have no other choice.
Facebook, Twitter, Google+ and YouTube Social Media Site Graphic Sizes
*Hint: I would highly recommend that you create one base image that is 400 x 400 to be used for all your profile images. Once you have that image, you can adjust to any square size easily. i.e. 250 x 250, 200 x 200, etc.
---
Facebook Page Image Sizes: Facebook Pages offer several different graphic locations and sizes.
Updated 6/21/17 – New Facebook Image Sizes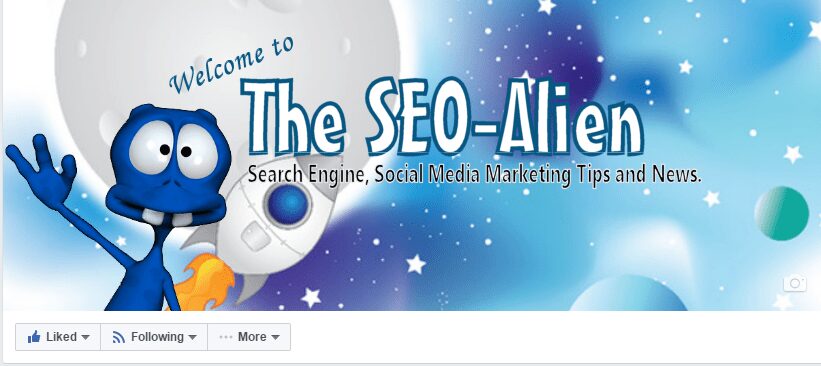 Facebook Profile Image: Create an image that is 200px x 200px. The minimum upload size is 180 x 180, and the profile image will appear as 160 x 160. Keep in mind that this is the image that will be displayed to the left of all your posts.
Tell More of Your Story!
Instead of a cover photo, now you can use a video. It can be 20-90 seconds and should be at least 820 x 312 pixels.
*Hint: Once you upload your Profile Image if you find it is not centered correctly, put your mouse over the image and then click "Edit Profile Picture" -> "Edit Thumbnail". It will then give you and option to drag to adjust the image and/or you can select "scale to fit" to have it automatically proportion itself.
Facebook Banner Image: Pages: 820×312 or 820×459 (optimized for mobile) Groups: 820×250 or 820×459 (optimized for mobile) Events are now 826px wide (changed from being 851px wide).
Also be sure to follow Facebook Page Guidelines regarding images and content.
Facebook Post Images: When you are posting to your website/blog and want the best look for your images on Facebook, 470 x 250 works well. This will give your image on your Facebook post the full image beneath the content. 
Facebook Link Images: These are optional (and perhaps a more advanced feature), but to give your page a professional look and feel, it is something you will want to look into. The image sizes here are 111px wide x 75px tall.
*Hint: Create the original image at 300×200 and then re-size it to 111×75 before uploading it to Facebook. This makes it a a lot easier to create the image in a larger size first.
---
Twitter Image Sizes: Twitter offers several different image locations as well, including the background image. The one thing you should also recognize is your Twitter page on your cell phone will offer another image that is not very well seen on a PC.
| | |
| --- | --- |
| Twitter Images | Twitter Mobile Headers |
| | |
Updated 4/24/14 – New Twitter Image Sizes
Ya.. here we go again, another change..
New Profile Header Recommended Size – 1500 x 500 pixels. Maximum file size of 5MB
New Profile Photo – Recommended size: 400×400 pixels.
Also note that there is no longer any background image for the entire background of the page.
Everything below this are the old Twitter image sizes
Twitter Profile Photo Image: You can edit your profile photo or information in the Profile tab in your settings. You can use the same 200px x 200px image you created above for Facebook. Technically it can be any size (I suggest a square size) as long as it is not larger than 2MB in any of the following formats: JPG, GIF, or PNG. (Twitter does not support animated GIFs.)
Twitter Header Image: You want to put a little thought behind this because if you use text in your header image it may clash with the profile text that is already added by twitter. (If you have not completed your Twitter profile, I suggest you do this first)
Twitter Background Image: To give your Twitter page a very authentic, original look, a background image can do wonders. It can also be used to create a "billboard effect" by adding company info, phone numbers and/or links to other profiles or websites.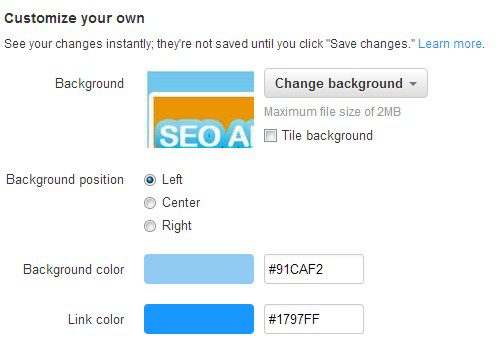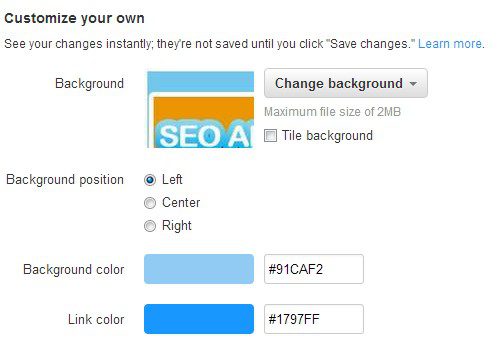 How (or if) your background image appears ultimately depends on the size of the computer screen people are using. What I recommend it using the most common smallest size screen to base the background image text, which is 1280 x 720.
1280 x 720 is not the image size, but if you want to be sure the image is properly fitting the screen, adjust your screen resolution to 1280 x 720 so you can see what it will look like.
The actual image size you will want to work with is 1288px wide x 728px tall. On the left hand side of the image, you will want you text to be no more than 200px from the left or it will be hidden underneath your tweets background.
From Twitter go to "Settings" -> "Design" to add/edit your background image.
For the suggested size image above, do not click tile and align left. Adjust your background and link colors to be sure they are visible and match your background colors.
---
YouTube Image Sizes:
Youtube has given you an option now to upgrade to their new format and Add new Channel Art.
Profile Picture: YouTube is going to offer a couple looks. If you have your YouTube account connected to your Google+ account it will use your profile image. If you do not have it connected to your Google+ account, use the 250 x 250 profile image.
Background image: Create a background image that is 2120px wide x 1192 tall. Create another image that is 2120 x 350. Place that image over the larger image using the template below.
Adding the New Channel Art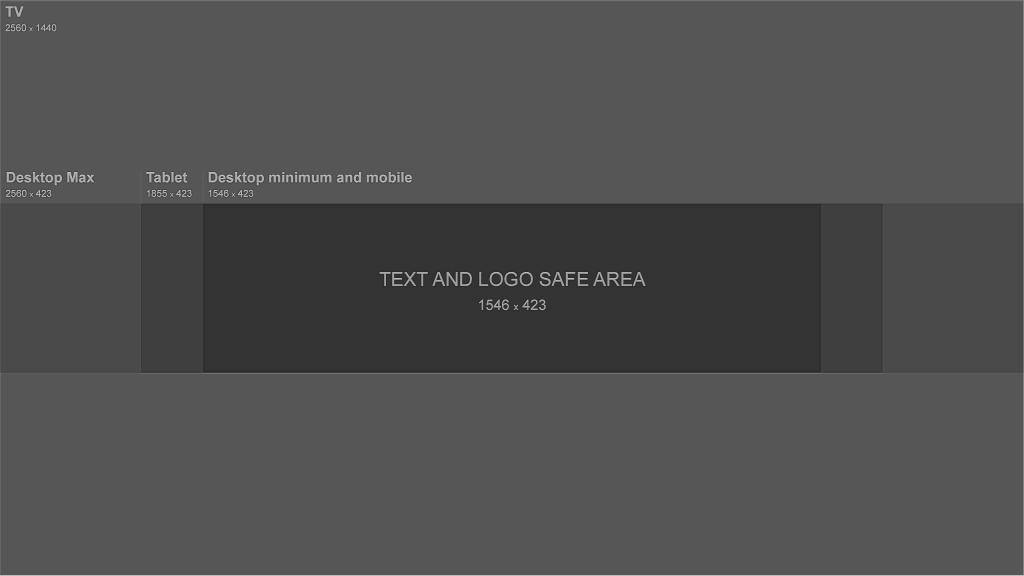 Read more about the New YouTube Channel Art Guidelines.
---
Triberr Banner Image Size:
Triberr offers a pretty cool feature that will pull in a snippet of your blog posts from a WordPress website. It is a plugin that needs to be added, but it is pretty simple to do.
Banner size: 770px wide by 320px | jpg, jpeg, or png
---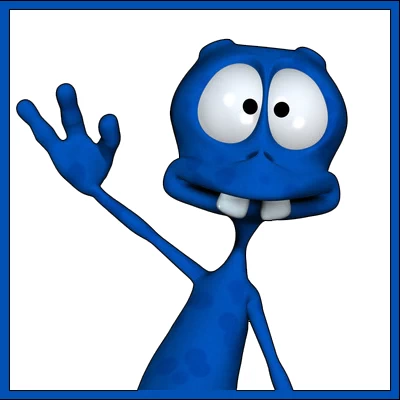 About the Author:
The SEO-Alien is a project started in 2009 regarding all things online marketing. The site started out more of a diary of predictions, suggestions and references to things I frequently used for online marketing... before social media marketing was even an option.
I hope you find the information and tools presented here useful and something worth sharing with others.
If there is anything else about online marketing or any online advertising strategy you think would be helpful, please let me know.
---