Content marketers love Squirrly and this is why if you are a small or large business blog owner you should check out Squirrly, a SEO Plugin for WordPress.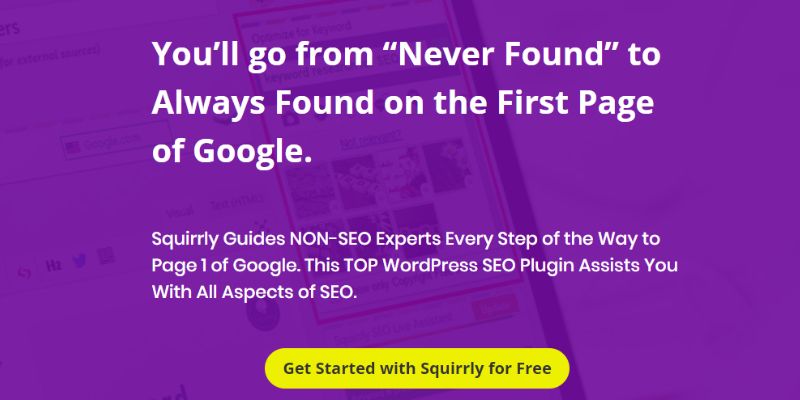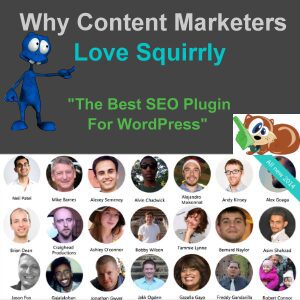 Today's SEO (Search Engine Optimization) is not the same as it was 5 years ago or even 6 months ago. Google's Algorithms are constantly changing. Though one thing has not changed, Content is King, but more importantly, quality content is King and the most human content will win in the long-term, but you also have to make it Google friendly. This is just one of the many reasons why content marketers love Squirrly.
In a study made by Squirrly
, it was shown that the optimized content actually managed to bring an increase in readership of over +285%, and in some cases it was even as much as +500%. The fact is, with over the 50 websites that I manage for myself and clients, on average,
over 85% of all traffic comes from Google. 
So, with that being said, why wouldn't you want your content to have a better chance of getting to the top of the Search Engines for the Search phrases that you want?
The live assistant will also help bloggers and content marketers in several other areas as well, like in doing research for similar articles, tweets regarding similar subjects, images, comments and more.
Content marketers love Squirrly because it takes all the guessing out of it with their Squirrly SEO Live Assistant.
Before you start writing your article, simply put in your keyphrase and as you type, the Squirrly Live Assistant will take all the main factors of good SEO content marketing and they will turn green as you achieve them. Over do it, and the Squirrly Live Assistant will turn red in the areas where you have over-achieved.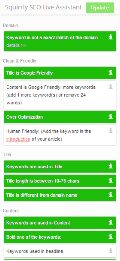 In a nutshell (pardon the pun Squirrly), the SEO Live Assistant will help you real time optimize the content on your WordPress site for both humans and the Search Engines.
But there are many more reasons why content marketers love Squirrly for Optimizing their Content and WordPress Sites.
SEO Alnalytics: Using the Squirrly SEO Analytics feature, you'll be able to measure the success of the content on your site, in terms of traffic, social media, Google ranking and authority.
SEO Audit: This feature helps you see the Score of your whole website and see how good it is on several important factors. Blogging, Traffic, Social Media, SEO, Links and Authority.. and if you have errors, they will show you how to fix them!
Keyword Research: Find the best targeted keywords using the Squirrly SEO Keyword Research Tool. Get powerful data from SEMrush and other popular Social Media Sites to take advantage of the right keywords!
Let Squirrly automatically optimize your blog for SEO. You can use "All In One SEO", "WordPress SEO by Yoast", or other such plugins. If you want, you can also use the built-in settings from Squirrly (useful for beginners).
Adds the XML Sitemap for search engines: /sitemap.xml
Adds the required METAs for home page (icon, author, language, dc publisher, etc.)
Adds the favicon and the icon for Apple devices.
Adds the Twitter card in your tweets.
Adds all the tracking Meta tags for Social Media sites and Webmaster tools
Updates! The Squirrly plugin is updated often to ensure you are getting the best.
…and finally, they are just good people. 
These are many of the reasons why bloggers and content marketers alike love Squirrly, and why so many of us are going nuts over the Squirrly SEO Plugin for WordPress.
You'll go from "Never Found" to Always Found on the First Page of Google.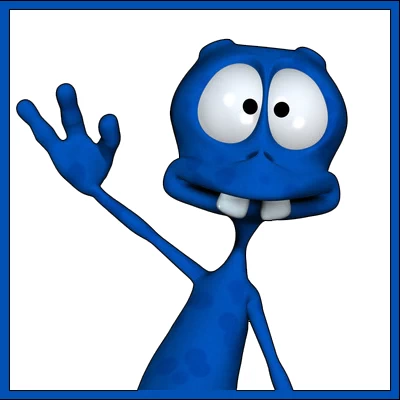 About the Author:
The SEO-Alien is a project started in 2009 regarding all things online marketing. The site started out more of a diary of predictions, suggestions and references to things I frequently used for online marketing... before social media marketing was even an option.
I hope you find the information and tools presented here useful and something worth sharing with others.
If there is anything else about online marketing or any online advertising strategy you think would be helpful, please let me know.
---