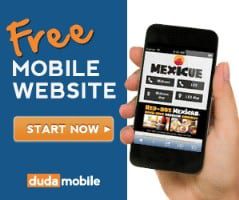 Smartphone usage is soaring! It is now estimated that 61% of all local searches will be done using smart phones. What does this mean for your website?
Simple, if your website is not mobile friendly, you are going to miss out on a major source of traffic and business!
Duda Mobile went out of business sometime in 2015. They have since re-emerged as something different. Regardless of they re now, I would never recommend them. For for information why, please see "Why Duda Mobile Sucks!"
Making your website mobile ready should not cost you a fortune and it shouldn't take you more than 30 minutes to take the website you already have and make it a mobile ready website.
Why is making your website mobile ready so important? There are several reasons, but let's look at what we feel are the 3 most important reasons to make your website mobile friendly.
User friendly experience: Consumers are 51% more likely to purchase from retailers that have mobile- specific websites and over 80%
Google Mobile Search: Smartphone usage is soaring. Predictions that by 2013 50% of all local searches will be done using smart phones.
Will Google penalizes non-mobile ready websites?: 

UPDATE 4/11/2015

 Google penalizes non-mobile friendly websites effective 4/21/2015. If you strive to get top listings in Google and your site is not readable on a mobile phone without expanding it, then Google will give preference to other websites that have mobile phone friendly sites.
We often hear people say, "my website is mobile friendly", then we look at it and discover we have a different opinion about what a mobile ready is. If you have to zoom, scroll left or right and do not have simple buttons ("Tap to call", "Tap to Map" "Tap to email" are a few), then your website is NOT mobile ready.
Truth is, "90 percent of websites are not ready for mobile use."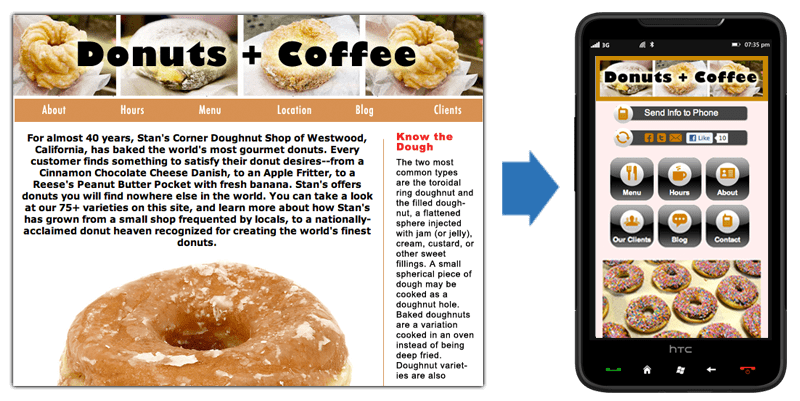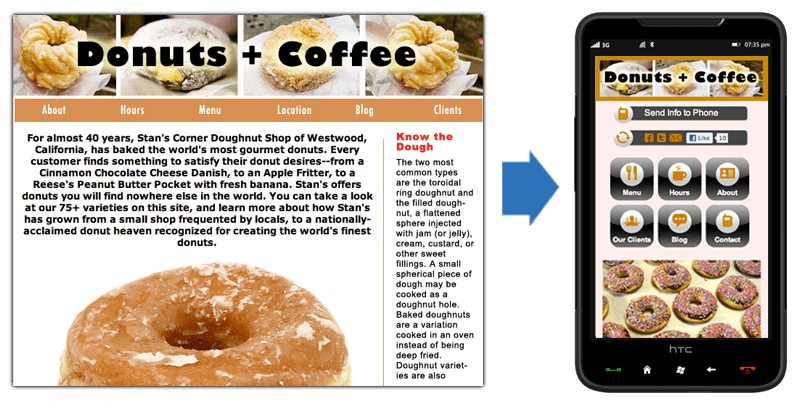 A simple solution to creating a professional looking mobile ready website is to use the website you already have, but use a tool that will allow you to remove the "clutter" and create a very specific user experience. Create "action buttons", such as "click for map", "click for coupon" "click to call", "click to e-mail us", and many more that will drive more traffic your way!
So where should you start? Here is one of the better tools we have found to Create Google-friendly mobile website for FREE from the website you already have.
Google teams up with Duda Mobile to offer businesses a free mobile website!"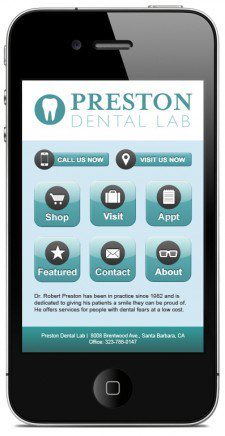 Here are a few features why:
Optimize your website for phones with a web browser: Converts your existing website into a mobile friendly site
Automatically syncs with your regular website: Any changes you make to your regular website are automatically updated in your mobile site for free!
Dozens of great looking templates to choose from: Select from a variety of mobile website templates designed to WOW your site visitors!
Built for non-techies: Not a website designer? No problem. Duda makes it easy for anyone to create a mobile site!
Optimized for all smart phones: Works on major smartphones including iPhone, Android, Blackberry and Windows Mobile
Click-to-call: Add a click-to-call button to make it easy for your customers to contact you!
SMS your business: Make it simple for mobile site visitors to text your business info!
Mobile Map with Directions: Add a mobile map to your site with step-by-step directions to your business
Free Mobile Analytics: Keep track of all your mobile website traffic and site visitors!
WordPress friendly: Have a site built in WordPress? Duda is built to handle WordPress sites seamlessly!
Simple and FREE!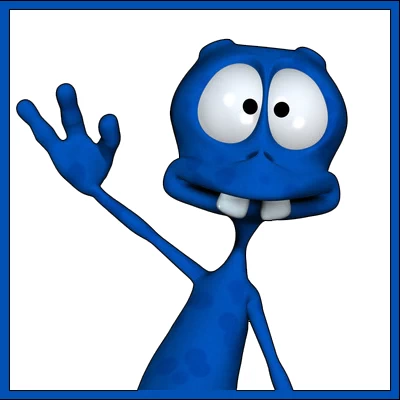 About the Author:
The SEO-Alien is a project started in 2009 regarding all things online marketing. The site started out more of a diary of predictions, suggestions and references to things I frequently used for online marketing... before social media marketing was even an option.
I hope you find the information and tools presented here useful and something worth sharing with others.
If there is anything else about online marketing or any online advertising strategy you think would be helpful, please let me know.
---