Imagine waking up to losing everything you've worked hard for; in an instant, your site was hacked and shut down. You're incredibly lucky if you have backup files for times like these. Otherwise, you're going to have to watch the energy, time, and money you spent in building your site go down the drain.
It will be hard getting your site up and running again that is if there is still an audience waiting for you. Winning back your audience and removing your site off of spam lists is the hardest part of your journey to recovery. If you're fortunate enough not to have been hacked, you should thank your lucky stars because hack attacks aren't as uncommon as you think, especially for WordPress users.
Unfortunately, along with the rise of WordPress comes a new target for hackers. More than 170,000 WordPress sites were hacked in 2012 alone, and the measure is continually rising
every day.
To save yourself from the aftermath you have to deal with, here are the five most common reasons how WordPress sites are hacked and how to make sure that your site is not attacked.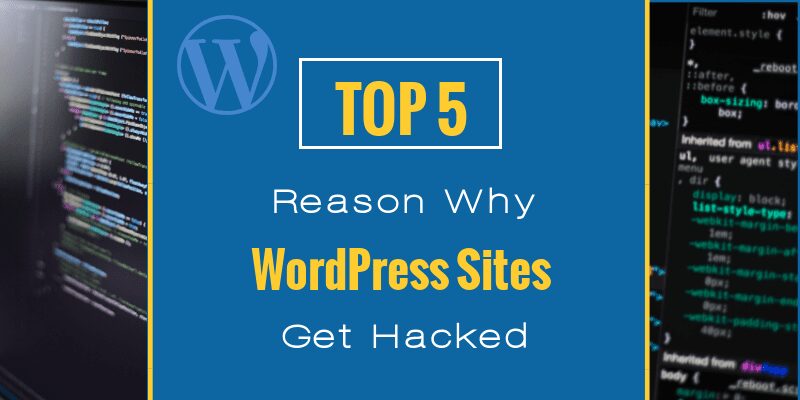 1. Lax Security Access to WordPress Admin
To manage a site, the WordPress admin needs to have access to posting and editing things in your site. When the WordPress admin access has little to no security, it becomes the number one spot for hacking. You can discourage hacking by setting up several layers of authentication for your WordPress admins.
First and foremost, the WordPress admin area should be password protected. It requires a person trying to get into your WordPress admin area to give an extra password. If your site has multiple authors or users, you can implement having strong passwords for everyone logging into your site. Adding a two-factor authentication strengthens your case against hacking into your WordPress admin area.
2. Unaddressed Loopholes
WordPress isn't known for having the most secure sites. Despite this, the platform has nearly 75 million active websites which are approximately 27% of all websites worldwide and 59% of the total CMS market share. Since all of these sites were built in WordPress, a weakness in one site may also be present in others. Judging from the sheer number of WordPress sites and the amount of them that are hacked, this assumption is not so far off. Hackers find weaknesses in one site and look for the same symptoms in other WordPress sites, using the first website as a template for their hacking. You must take it upon yourself to address and cover loopholes of your site.
3. Unpatched Plugin
Hackers do not stop at the first sign of struggle. It will take a lot more than asking for a couple more passwords to deter them. The next place they're going to look for an opening in is in the plugins your site uses. A plugin that is not fully patched against backdoor access may be a hacker's way in which is why you should only use plugins that are trusted and up to date with the latest patch on your site.
4. Hacker Bots
To be able to gain access to more sites in a period, hackers have learned to used bots to attack your site. It is incredibly time-consuming for hackers to individually check each target site for loopholes, so they automated the whole process to hack many sites at once and get a higher success rate. These bots automatically sniff out common vulnerabilities and get in through there. So if you get hacked, it most likely is not because someone is targeting you specifically. You just probably got unlucky and popped up on the radar of an automated script.
5. Outdated WordPress
As mentioned above, WordPress isn't the most secure platform, so they're continuously working on that. Each update aims to fix bugs and security vulnerabilities for all WordPress users so make sure you're always up to date.
The most common reason why WordPress users avoid the updates is that the update might "break" their site. If that is also your concern, you can create a complete backup on your site before updating. That way, if the update does break your site, it will be easy to return to the old version.
Final Thoughts
It is always a good idea to be one step ahead of the hackers to keep your site safe and intact. However, there is only so much you can do as someone who may not be knowledgeable in digital marketing. You may opt to seek professional help in keeping your site patched and doing further preventive measures.