Converting Tags to Categories
There may come a time that you may want to convert WordPress post tags to categories (or categories to tags). Below is a suggestion that worked for us.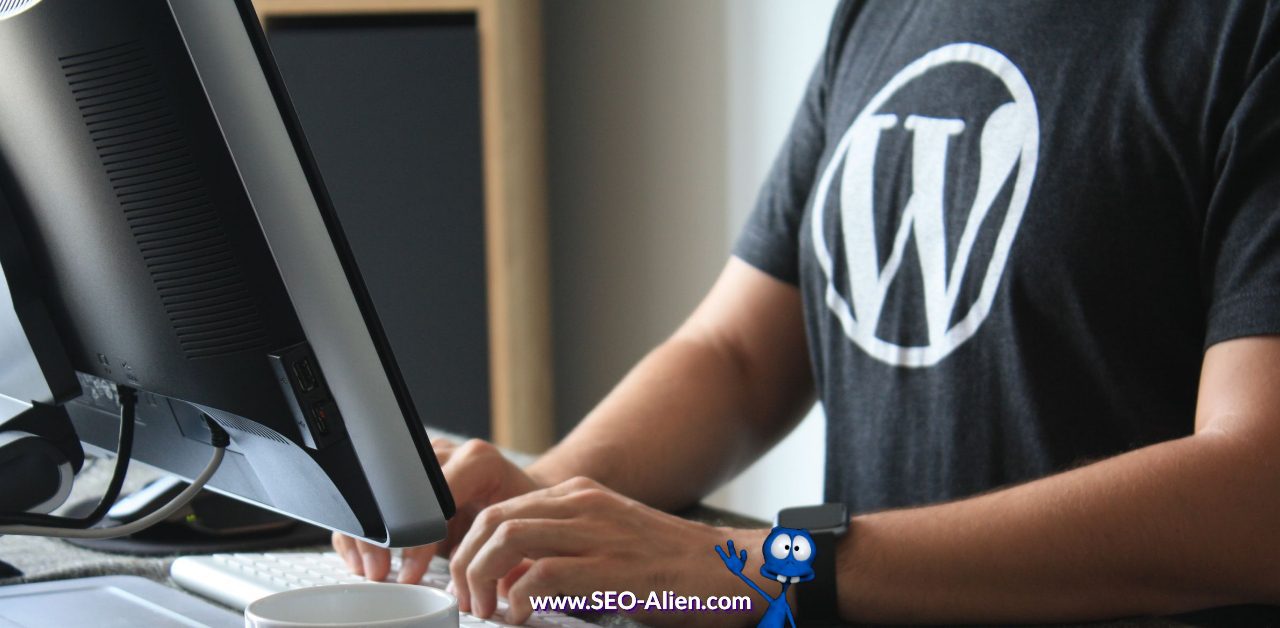 Creating Blog Pages From Categories in Divi Theme
This may work for other WordPress themes, but this method is explained for when you are using the Divi Theme by Elegant Themes.
Here was the situation for the SEO-Alien. Having this website since 2009, We developed many tags over time that we wanted to become categories, so we had to figure out a way to convert WordPress post tags to categories.
Reason for this, we wanted to create an advanced 'blog roll page' out of those tags, but as of now, you can only do that with categories.
In Divi Theme, you can create your own style of Blog Roll Page vs. using the tags to categorize.
Example
See the difference between creating a blog page by tag vs. creating a custom page using categories.
See the differences below:
A Blogroll Created with Tags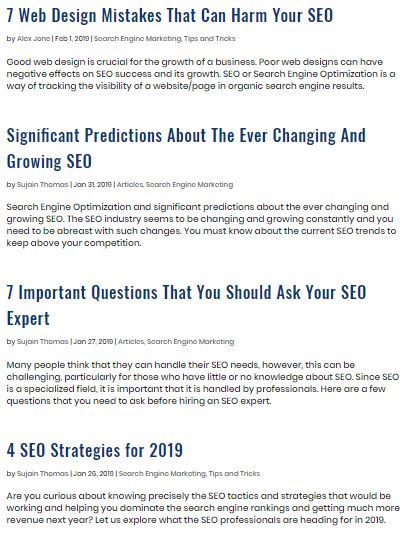 A Custom Blogroll Created with Categories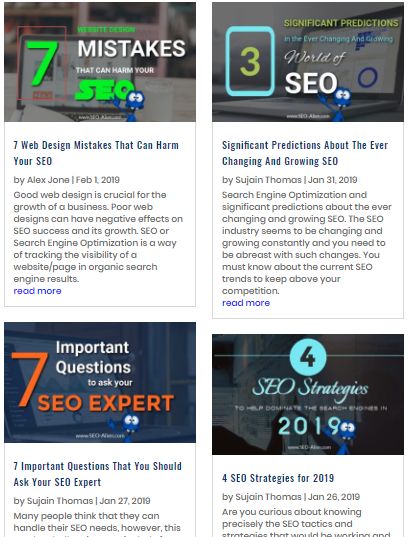 How to Convert Tags to Categories
After going through a couple plugins, eventually we found Taxonomy Converter. At the time of this post, it said:
"This plugin hasn't been tested with the latest 3 major releases of WordPress. It may no longer be maintained or supported and may have compatibility issues when used with more recent versions of WordPress."
We installed it anyway, and it worked. (Would suggest that after you use it for what you need, de-active the plugin and delete it to keep your site secure.)
If by chance they remove it from being downloaded at WordPress, you can download it from here.
Also, when you change your tags to a category, it will delete your tags. Likewise, if you change a category to a tag, it will delete those categories, so be sure you are not using them for any other purpose on your site. However, there is a simple fix to this to add those tags back to your posts if you choose to, and that will be explained below as well.
STEP ONE
From your WordPress websites dashboard, go to Plugins -> Add New
Search for 'Taxonomy Converter', and install and activate it.
STEP TWO
From your WordPress websites dashboard, go to Tools -> Available tools then click the 'Categories and Tags Converter' link.

STEP THREE
From your WordPress websites dashboard, go to Tools -> Available tools then click the 'Categories and Tags Converter' link.

STEP FOUR
After it installs, click the 'Run Importer' link.

STEP FIVE
On the new page that loads, at the top of the page by default you will be in the 'Categories to Tags'. In this example, I want to click the 'Tags to Categories' tab.

STEP SIX
This is where you want to take you time and think about whether you are using these tags for any other reason, because one you convert your tags to categories, it will delete those tags. If you are adding more that one tag to a new category and would like to keep those tags, you will need to change ONE TAG AT A TIME. It will make it much easier to add that tag back to the post, as explained in Step 7.
In this example I want to create a category called 'Quizzes and Polls'.  BE SURE YOU HAVE ALREADY CREATED THE CATEGORY before going to the next step. (If you need to go to Posts -> Categories and create it.)
Select the Tag(s) you want to convert to Categories and select 'Convert Tags to Categories' at the bottom of the page.
STEP SEVEN
Merging Your New Categories to One Category and/or adding tags back to posts.
A) The next page that loads will show you the tags that have been converted to categories. DO NOT NAVIGATE FROM THAT PAGE. You will want to 'copy and paste' those tags in the step below.
In a new window, go to your categories page and search for the converted tag that is now a category. 
Click the Count #, (in this case it has one article with that tag.)

B) My suggestion here is to SELECT ALL on all the left check boxes (if you have more than one post), then select 'Edit' in Bulk Actions then click 'Apply '

C) Now you are in the 'Quick Edit' feature and you can add these posts to the appropriate category and/or add back and tags. Then click 'update'.

D) DELETE YOUR OLD CATEGORIES. Because we just added these posts to the new category, you are going to have empty categories that you just changed from tags.
From the categories page, sort by 'Count' and you will see empty categories. Select the check box to the left of all your empty categories,  In Bulk Actions select 'Delete' and then click Apply.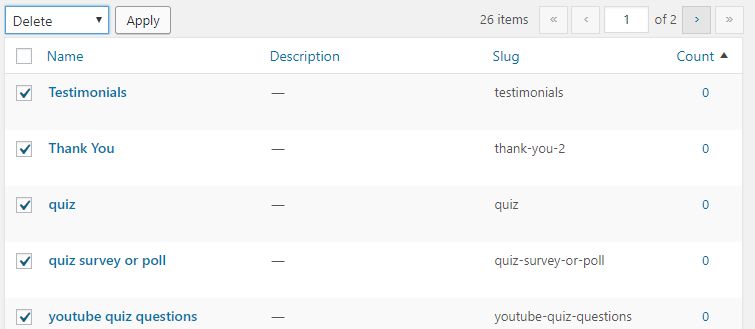 Repeat
If you would like to convert more tags to categories, go to Tool -> Available Tools and Run the 'Categories and Tags Converter' and repeat from STEP 5 above.
Lastly, if you have done everything you need, only because that plugin has not been updated for a while, I suggest that you deactivate and delete it.
Create Your Blog Page
Now in Divi Theme, Create a New Page with the new Category Name as the Title of the Page. Use the DIVI builder and use the blog feature widget and select your category and adjust the page settings and now you will have a new category page the way you want it to look.
Now that you have that category, you can also use the 'Blog' module to add to any post as well, as I have done below.
The "Make Primary" button in WordPress Categories is a useful tool that can help you organize your posts, improve your SEO, and make it easier for visitors to find your content. In this article, we'll explain what the "Make Primary" button is, why it's useful, and how to use it.
read more
Learn how to move old content to a new category in WordPress without losing SEO juice. This article covers how to use the bulk edit feature, update your XML sitemap, submit the new URL to Google Search Console, and link to your new category.
read more
This is the way that that worked for us. As always, if anyone knows of another way, please don't be afraid to let us know.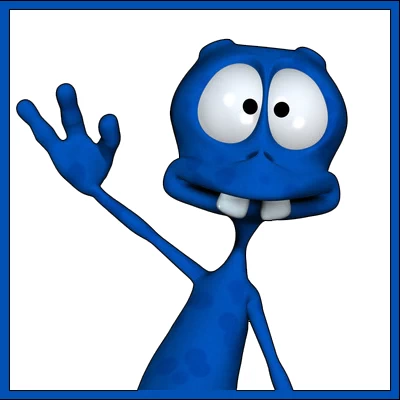 About the Author:
The SEO-Alien is a project started in 2009 regarding all things online marketing. The site started out more of a diary of predictions, suggestions and references to things I frequently used for online marketing... before social media marketing was even an option.
I hope you find the information and tools presented here useful and something worth sharing with others.
If there is anything else about online marketing or any online advertising strategy you think would be helpful, please let me know.
---