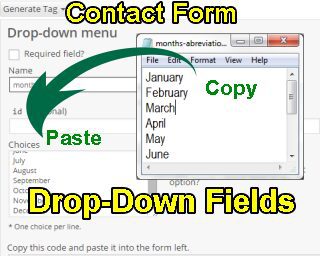 If you are creating contact forms, or any kind of forms that capture information, it is time-consuming & frustrating finding and entering all abbreviations for the drop-down menus.
After creating more and more contact forms for our clients, it was about time to get smart and create a list of most used drop-down menus to easily copy and paste them into the drop-down fields!
[contact-form-7 id="12282" title="Drop-Down Abbreviations"]
Download all 5!
I searched the web for these drop-down fields and I found a few, but they either had "" in them and/or other text or code that I didn't need. In some cases they took me hours to edit!
So here they are! All 5 categories in simple text (notepad) so you can easily save the files to your computer, open them quickly, then effortlessly copy and paste them into the drop down fields.
5 Most Popular Contact Form Drop-Down Fields
Drown Fields for Months

Drop-Down Fields
for Years
1914-2015
Drop-Down Fields
for States

Drop-Down Fields
for Numbers
1-100
Drop-Down Fields
for Countries
248 Countries
100% Free to Use However You Want!
Enter your Name and best email below to get the script and the instructions to add it your site or squeeze page!