What about Google's latest Penguin Update? Blog comments have been penalized, forum links and forum spam have been penalized, press releases have been penalized, low quality blog networks have been penalized.
This time, the latest Penguin update was specifically designed to target spammy links, largely from low quality websites, websites with thin or crappy content and the sort.
Is this what your SEO company is doing? It is about time to Alienate yourself from cheap, crappy methods of getting the SEO and Social Media juice!
Many of these so called "SEO Companies" talk about Link building as being one of the "core tasks of SEO"…. companies like this generally use very poor linking tactics and can/will harm you more than help you.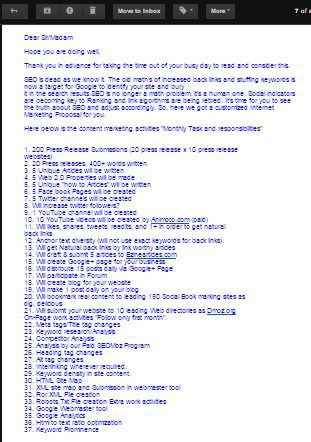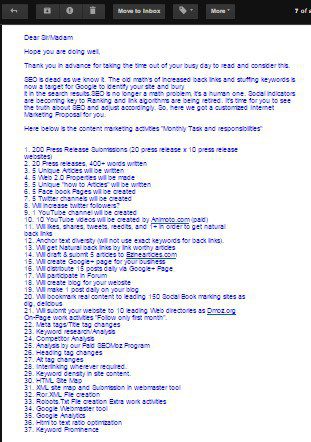 One of my clients forwarded an email (image on right) that came from a SEO company trying to solicit his services. He was asking if it was smoke and mirrors.. it's worse.
This company claims that they will;
Create 200 Press Release Submissions (20 press release x 10 press release websites)
What they are saying is they will create as much duplicate content as possible and spam Press Release sites with them.
5 Face book Pages will be created.
WOW… what a better way to create chaos for your business than to have 5 Facebook pages, the only thing more complicated would be to create 5 twitter pages for your company.
5 Twitter channels will be created.
I'll be damned, they even do that. Not only will this create more complications for a good social media campaign in the future, you are essentially spamming twitter with the same ol' crap. Not real, not real people, there is nothing real about any of this.
Run, run as fast you can away from this type of SEO strategy!
Google is doing everything to stop and penalize what a typical SEO company is telling you they do. So why do you keep doing it?
There is a much more productive SEO strategy. Look at things a different way. So many SEO companies are trying to fight the Search Engines and not work with them. I have invested more energy learning what Google wants than I ever have learning how to trick Google.
What hasn't ever been penalized by any algorithm update (and probably never will be)? If you knew and followed this strategy, you will never have to worry about another Google algorithm update again and get fantastic SEO and Social Media results.
Post Unique, Quality Content!
Poor content has been slapped hard by this latest Penguin update. Quality content never will. Why? It's simple. High quality, original content is exactly what Google is TRYING to deliver to users.
That content is not just articles.. diversify your content. Use quizzes as well as videos for example. Not only will your followers be more willing to share the different experience, the Search Engines will love it as well.
Search Engines continue to punish websites with low-quality, spammy links, duplicate content and redundent posts on sites that a link to your site has no reason being there.
Never worry about another "Latest Penguin Update" and invest the time in creating great content for your sites. Content that real people would actually want to read, share and participate in. It will pay off today and for tomorrows to come.