Do you have a you have a YouTube video that you would like to only have visible on your website, but not visible on your YouTube page? There are a couple steps that you will want to take and one in particular that you will want to avoid.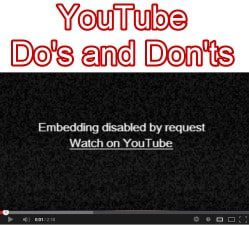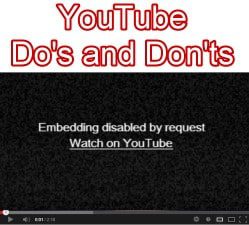 I recently made a few mistakes with YouTube Videos. Many of you reading this article may go "Duh!", but if it helps one person not make the same errors I did with my YouTube videos, then this article was worth it.
Here is what I did. I had several videos that I wanted to be only visible on a private members site, for members only and on a couple squeeze pages I created.
The mistakes I made after I embedded those videos, not only made those videos NOT visible to the members, but also made them visible to the public on my YouTube page. If that wasn't embarrassing enough, the squeeze pages I created with videos did the exact same thing.
So here are some of the "Do's and Don't" lessons that I learned the hard way with YouTube videos and I hope this will help you avoid the same type of mistakes.
Lesson #1: YouTube Playlists and "Unlisted"
Your YouTube Channel now gives you the ability to add playlists. If you upload a video and mark it as "Unlisted"  you would think (at least I did) that it would not be visible on that Playlist because you have it "Unlisted"… not the case… it is viewable to everyone and anyone that visits your YouTube Channel.
In order to make a "Unlisted" video viewable only on your website or squeeze page (not on your YouTube channel), then mark your video "Unlisted", but DO NOT upload it to any playlist. Leave it out of  playlists and then it will not be visible on your YouTube channel.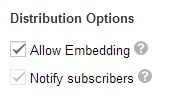 Lesson #2: Using the "Allow Embedding" Option.
In the 'edit video' section, in the Advanced Options, you will see a feature where you can turn on or turn off the ability for anyone else to embed your video.
Well, here is another "Well I'll be damned" moment. You would think, (or at least I did) that after you embedded your YouTube video on your site, then you could go back to that video and turn off the feature that allows embedding, preventing that video from being embedded again after you have.
If you do it will then turn off the video you embedded on your site and give your viewer the video image below after they start to play the video.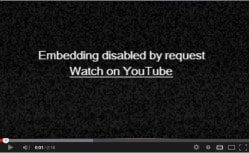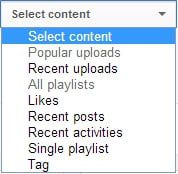 Lesson #3: Adding "Recent Uploads" as a Playlist
The new YouTube channel gives you the ability to add several types of default playlists to your YouTube Channel. One of those selections is "Recent Uploads".
If you have a video listed as "Unlisted" because you only want that video to be viewable on a private page, your website, blog or squeeze page, then wouldn't you know it… it will be visible to the world if you have added the "Recent Uploads" Playlist to your page.
Lesson #4: You Cannot Create an "Unlisted" Playlist
This is a feature I wish they had. There are a couple of situations where I would like to create a playlist that is "unlisted" allowing that  playlist to be on a members only site so that they are they only ones that would be able to view everything on that playlist… can't be done.
UPDATE: 10/12/2013 Wiii!! They listened! You can now make a YouTube Playlist "Unlisted"
The only options for playlists are "Public" or "Private", so don't go creating a Playlist thinking you can make it "unlisted".
Maybe someday YouTube will add that ability, because I could sure use it.
Notable Mention: Sharing Private Videos
This isn't really something I did wrong as in the other lessons above, but while doing some research on YouTube, I thought this would be worth mentioning.
If you want to post a private video to a limited group of people, then you set the video to private.. simple enough right? However, if anyone of the people you would like to share that video with do not have a YouTube account, they will not be able to see it.
One other note about sharing a private videos, you can only share those with up to 50 people.
For more information on this, view YouTube's help page on Sharing Private YouTube Videos
---
So there you have it, a few mistakes I made with YouTube. Hope this helps by preventing someone from making the same types of mistakes.