Though this article is about using Google plus for real estate, you can apply these same techniques for any niche or business that you are trying to attract people that are interested in what you have to offer.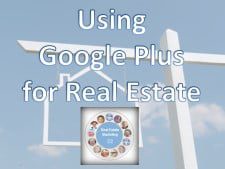 No matter what business you have, Google+ is a fantastic way to grow a targeted audience that is interested in what your business offers. What is most attractive to me about this, by doing this correctly you will build a 'circle' of people that want to hear what you are offering, in this case real estate.
Below is a simple step by step checklist on how "Using Google Plus for Real Estate" can easily generate more targeted traffic than any other method available online using Google plus.
Creating Your Google Plus Profiles and Circles
Step One – Create a personal profile – What gmail account you use or create is not really important because people (unless you want to make it public) will not see your email address, but creating a profile that describe your interests, hobbies, links to your other social media profiles, websites and/or blogs will create an instant introduction to people so they know immediately who you are and what you do.
Another huge benefit to completing your profile is it will show up on Google search results when people are searching for a service like you are offering.
Step Two – Grow your circle of friends and categorize them into 'circles'. If this new term of 'circles' confuses you, think about circles as 'a group of people' that you have defined. You can create circles by the state or country the person lives in, their interests or hobbies. You can add people to more than once circle as well.
You can have a circle of friends, prospective customers, current customers, business organizations, or any number of possibilities. The list is endless. Think about it. You really don't want to share the same information with friends as customers or business organizations with customers. Creating these "Circles" on your Google+ is the perfect solution.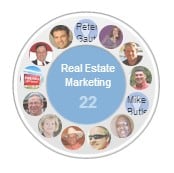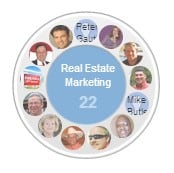 Step Three – Join circle sharing groups. This is huge right now and will grow your followers almost virally.
Look for people that are professionally involved in real estate, add them to your real estate circles and then share that circle publicly (be sure you are on it).
Once you have shared it, others will add that circle to their profiles and then they will share it. Everyone that adds that circle will then automatically follow you back. The more people that share that circle, the more followers you will get.
Another important thing you should know about circles is no-one but you knows the name of the circles you create. So when you add someone to that circle, don't worry, they won't see it. The only time people will see what you have named your circle is when you share it, so think ahead of time when creating a circle that you may want to share. 
Creating a Real Estate Business Presence on Google Plus 
Step Four: Create a business page. Once you have a following on Google+, a good way to find your audience is by creating business page and invite all your circles to it. For the most part the people who +1 that page are either fans/friends and/or potential customers.
When you post on your page, it is optional, but you can also share that post on your personal profile to attract more people to your business page. One note here, do not always post about 'you' on your personal profile. +1 and share others posts that you find interesting. Comment on others posts as well in a 'non-bushiness' way, (tell them you like the post and thanks for sharing it for example). Others will see your comment and often they will click your image to check out your profile.
Having a business page will allow you to direct market to a group of followers that have more or less 'opted in' to your marketing. Have a new house for sale, post it, have an article about real estate news that you feel your followers would be interested in, post it.
There is an option to email people when you post, use that sparingly, people will 'mute you' if you abuse it. In the step below, creating a 'community' is where you an benefit from using Google to email people directly.
Promote Your Real Estate Presence Using Google+ Tools
Step Five: Create an event hangouts. This is different than creating a Hangout only, creating event Hangouts can have an unlimited audience and the recording will go straight to your YouTube Page as a YouTube video. After the recording, you will want to go to your YouTube account and edit the title and description and add link to your website or property page. (at the very beginning of your description is where you want to add the link)
Let's think about this for a minute because there are a few HUGE side effects of creating an Event Hangout.
You can invite everyone in all your circles and also choose to make this event public. This way people that you may not know already, but are interested in your Event Hangout can RSVP.
Your RSVP list (you can make this private so only you can see it) can now become another circle. Call this circle something like 'Interested'. These people that RSVP'd only RSVP'd because they were interested in what you were offering! This can now become a very targeted group to market to.
Your YouTube video will most likely make it to the top of Google! After your Hangout is complete, Use a keyword/keyphrase specific Title and description… 9 times out of 10 this will make it to the top of Google for that keyphrase. So even if no-one shows up for your hangout, you still get results from the Search Engines.
There are so many opportunities here! For example, you can do a live open house online!
Step 6 – Create a community around your Real Estate Business. This is huge. You can Using Google Plus for Real Estate by either making your community page private or public, that is up to you how you choose to do it. But regardless of how you do it, the people that join this community are going to become your most active, very targeted group of followers.
With a community, keep in mind that each post is automatically sent to every follower as an email, (Yes, they can turn this feature off, but the message will still show up in their streams.)
This way, when you have a new property for sale and/or a property is updated, you can notify you followers simply by posting it on your Community Page!
A great way to grow your community with targeted followers is by inviting the 'circle' list that you have created from your Event Hangouts. Chances are that group of people will want to be kept up to date with what you have going on.
Step 7 – Add Google+ buttons and/or Badges to your Blogs and websites! This is one key thing that a lot of people are not considering and is a tremendous advantage to Google+.
Everytime anyone adds you to their circle, they have basically opted in to your marketing.. however again, don't abuse this, you will want them to join your event hangouts and community page(s) themselves, but the point I want to make is by giving people the 'choice' to +1 and/or add you to their circles, they have in a sense gave you their email (not directly, but indirectly). I would NOT however recommend emailing every person in your circles. Once you have created that targeted circle of fans and followers, then their is a tight group that you can use the "email circle' feature when you have an important update.
There are several different styles of badges and interactive tools that you can choose from and you can find them all from . be sure you are logged into your gmail account and it will create badges for any page you choose and all you will need to do is copy and paste the code where you want it on your blog… just like the one I have below. 
Step 8 – Repeat! Grow more followers, do more Event Hangouts, invite more people. You will find that Using Google Plus for Real Estate leads will most likely grow you a group of interested, targeted followers that are interested in what you have to offer faster and easier than anyway you have done before.