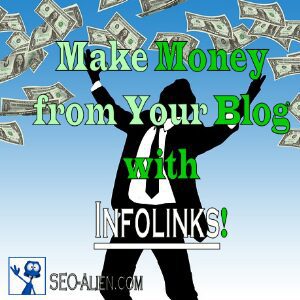 Do you have a blog or several blogs with great content, a lot of views but your are not making any money or you would like to make more money? Monetize the content on your website by adding a few content links from advertisers!
There are more ways to make money from your blog content other than using your blog to sell something or using Google AdSense.
Yes, Google Adsense can make the casual blogger a casual amount of income… but how about doubling the money you website earns you?
Depending on your website/blog content, content delivery, content quality, reach, etc, etc… if you drive traffic to your website or blog, you can make extra income on the side with advertising on your website.
A no-brainer is Google Adsense, but are there others? Yes… but some are better than others. For example, I used one that as soon as I got to my payment threshold, they cancelled my account because, according to their TOS, I "fell below" their traffic requirements… B.S.!!! I created that traffic, created those clicks and should be paid for it! SOUND FAMILIAR??? If not, it will be by using the wrong advertising companies PPC/PPV programs.
One of the challenges I had was getting a site approved. Unless one of my sites had a Google Pagerank of 5 or better and/or had over 10,000 unique views per month, it simply did not qualify for some of these better advertisers that I wanted on my website(s). Then I found Infolinks.com
How you use this is up to you, but remember and keep in mind that there are proven techniques that will help your websites conversion for ads, but don't over do it. If your website offers quality content, here is another way to earn money from your website or blog content.
And here is the best part about infolinks! Almost any website will qualify!
What is the eligibility criteria for my site to qualify with Infolinks?
"Infolinks takes pride in the effortless integration process and the high revenue stream that the Infolinks ads generate for online publishers. As such, the Infolinks platform is open to any online publisher, big or small, with no setup fees, no minimum requirements for page views or visitors and no hidden commitments. We do have certain policies in place that we believe will help ensure the effectiveness of ads for our publishers as well as for our advertisers. We review all websites, and we reserve the right to decline any application.
As part of our social responsibility, we do not allow content that in our opinion can be deemed as negative in nature, illegal or offensive in any way."
And another great thing about Infolinks? They accept payment directly to your paypal account!
It is not exactly like Google AdSenseor or other similar banner image ads. With Infolinks you can customize your ads in a variety of different ways.
Visit Infolinks and join more than 100K publishers worldwide monetizing their sites with style and ease. Infolinks' smart platform analyses search and webpage content in real time to provide the most relevant match between content and ads. So discover how our smart ads can work for you!