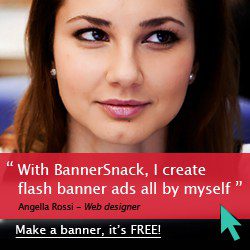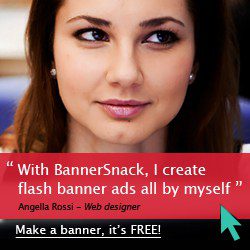 Looking for a dynamic way to create advertising banners that you can download, share on social media, embed on your website or use as you wish, here is a site that you can create your own Awesome Advertising Banners!
Check out the All-in-one banner maker and advertising app – Bannersnack
A One Stop Shop for Banner Advertising.
This is a High-quality banner maker that you can use for retargeting your potential customers, display advertising on your website, social media sites, and Facebook ads.


Use the banner maker to create and download your banner ads!
Download banners as Flash, JPG, PNG, GIF or use Flash/HTML5 embed codes.
Use their online advertising app to show your banner ads on 99% of the web!
This app connects to all major networks including Google-Display-Network and Facebook.
The highest ROI on the planet!
Run all the advertising campaigns that convert best: search retargeting, website retargeting and contextual targeting.
1000+ templates to start from Your own banners in minutes
Create and publish your banners for free. Get a free embed code to paste directly on your web page like a Youtube video. Pay to download as SWF, GIF, JPG, PNG.
Free stock images, cliparts, buttons and professional fonts
Transparent background stock photos created especially for banner ads, trendy buttons, beautiful fonts, cliparts, image editor and Flickr image browser included.
Bannersnack is an online app especially designed for creating high quality banner ads, smart and easy!