If for any reason you would like to change your WordPress password or you have been locked out of your site, here is how you can change the Password from your Hosting cPanel using the MD5 Encryption.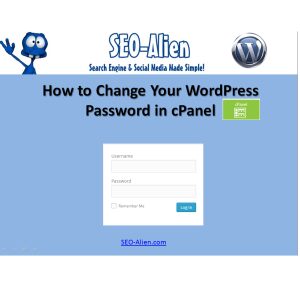 Changing your username in WordPress is simple enough, however how do you change the Password if you can't remember it and/or simply want to change it without creating a new account.
The first step would be to use the "forgot password" feature from your WP login page, but if you can't remember the email it goes to there is another way to assign a new Wordpress password from the cPanel of your hosting account…. but it's not just as simple as adding a new password.
In you hosting account, your Password is encrypted for security reasons using MD5 and will look something like  'bf1f45c793581b5836c73c82c6186ee5' and you will need to know how to create a new password using MD5 encryption.
If you would like to create a very secure password, there are several online that will generate them for you, here a two:
The following tutorial will show you how to change your WordPress Password from the Cpanel of your Hosting account and generate a new password using the MD5 encryption.