Do you use YouTube videos on your WordPress Site? Get more Google Search Engine visibility for your videos by creating a XML sitemap for your website videos.
Sitemaps are an easy way for website owners to inform search engines about pages on their sites that are available for crawling.
In its simplest form, a Sitemap is an XML file that lists URLs for a site along with additional metadata about each URL (when it was last updated, how often it usually changes, and how important it is, relative to other URLs in the site) so that search engines can more intelligently crawl the site.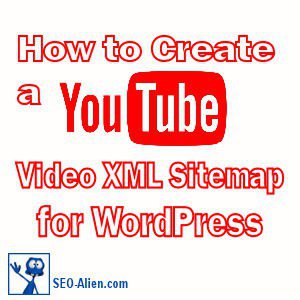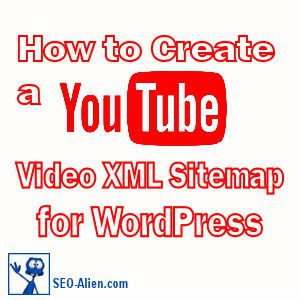 Web crawlers usually discover pages from links within the site and from other sites. Sitemaps supplement this data to allow crawlers that support Sitemaps to pick up all URLs in the Sitemap and learn about those URLs using the associated metadata.Using the Sitemap protocol does not guarantee that web pages are included in search engines, but provides hints for web crawlers to do a better job of crawling your site.
There are several types of xml sitemaps and one of the more overlooked ones is the xml sitemap for videos.
The Video Sitemap plugin will generate a XML Sitemap for your WordPress blog using all YouTube videos that you may have embedded in your blog posts.
Your Video Sitemap will includes web pages which embed videos from YouTube or which links to videos on YouTube.
If a YouTube video that you have in your blog has been removed from YouTube, the record in the Sitemap file will be ignored by Googlebot.
How to Install the Plugin:
From your WordPress tools menu go to 'Plugins' -> 'Add New'
Search for 'Google XML Sitemap for Videos'.
Click 'install' then 'activate'.
Here's How You Activate the Plugin:
Activate the plugin through the 'Plugins' menu in WordPress
Expand the Tools menu from WordPress dashboard sidebar and select "Video Sitemap."
Click the "Generate Sitemap" button to create your XML Sitemap for videos.
Once you have created your Sitemap, you can submit it to Google using Webmaster Tools.
Verifying your site with Google Search ConsoleNow that you have generated your Google XML Sitemap for Videos, take the time to verify your site with Google Search Console. (If you haven't added your site to Google Search Console, now is the time to do it!)
To your video indexing success!
Welcome to the SEO-Alien! A Universe of Online Marketing Tips, Tricks & Resources.
The SEO-Alien was a project started in 2009 regarding all things online marketing. It was more of a diary of tips and tricks with references to things frequently used for our clients. Since then, we have opened it up to guest post authors, but we continue to add our own useful tips, tricks and online marketing news.
We make our best effort to keep older articles up to date, but if you find something way out of date, please let a blue alien know about it.
Thank you, enjoy your visit!