Pinterest Widgets and Buttons, An image is everything! – Pinterest may seem like just one more site to manage to some online marketers, but to other online marketers, they could not manage without Pinterest.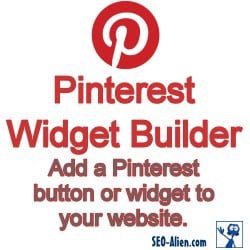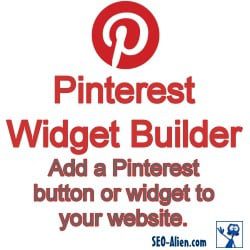 Whether you hate or love Pinterest, you can't ignore the facts like;
The total referrals Pinterest sends to commerce sites is in the 20% range. (9/16/13).
As the largest online retailer of home furnishings and décor, Wayfair.com sells more than 7 million items from 12,000 brands on Pinterest.
The average time spent on Pinterest per visit is 14.2 minutes (4/29/12)
Number of Pinterest users that have linked their Pinterest Account to Facebook: 9 Million (5/23/13)
Percentage of users in the US: 60% (9/19/13)
Percentage of Pinterest Pins repined: 80% (11/26/12)
Monthly Pinterest Previews: 2.5 Billion (5/9/13)
Like just pinning to Pinterest isn't enough, now you can easily create and add Pinterest Buttons and Pinterest Widgets to your blog or website.
With the Pinterest Widget builder you can:
Add a "Pin It" button to your site to encourage people to pin your post. (Be sure your article or page has images that are worth pinning. Whatever your business is, from selling real estate to hot sauce, use good images on your site.)
Add a Follow Button Pinterest to your site to encourage followers to follow your Pinterest Page or any individual Board.
…but that is just the beginning!

You can also add full images, sidebar widgets and more! Build your own Pinterest Buttons and Pinterest Widgets from the Pinterest Widget Builder.