There are a couple of Facebook Business page updates for your business pages that are pretty cool. One is pretty noticeable, the other is hidden in the Facebook page settings.
I noticed these two Facebook updates a while ago (I think the first update below was added late 2014), but I never really did anything with them until now. So, if you are anything like me and haven't updated your Facebook Business page lately, here are a couple Facebook Business Page updates you may want to consider turning on for your page.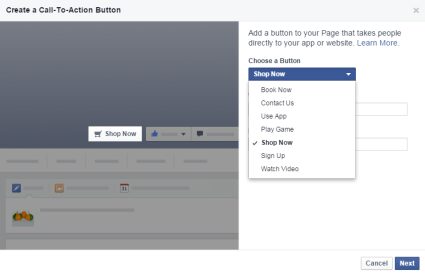 1) The first Facebook Business page update is the "Call-to-action" button that appears in the menu below your Facebook Page cover image. When setting up this feature, it has several different options that you can use;
Book Now
Contact Us
Use App
Play Game
Shop Now
Sign Up
Watch Video
Depending on what would be best for your business, you can add a direct link to your newsletter sign-up form, video about your business or even a direct link to your main shopping cart page.
Are people clicking your call-to-action link? Good news there, Facebook will even give you stats on that as well.
To read more about Facebook's Call-to-action feature, see https://www.facebook.com/business/a/online-sales/calls-to-actions
2) The second Facebook page update is the "Targeting and Privacy for Posts" update. This too was added/updated late 2014. This feature is a little better hidden, so if you haven't clicked your settings tab in a while, now is good time.
From your Facebook Business page, click the 'Settings' link from the top left of your page. In the 'General' settings you will see the "Targeting and Privacy for Posts". Turn it on and click 'Save Changes'.


Then go back to your page and click in the "what have you been up to?" as if you were going to write a new post.
From there, near the bottom left menu you will see a new "target" button. This is where you can set your "News feed audience".



Click the target image and then you click the 'Select Targeting' link that will allow you to select your audience.
This can be very useful for business that want to target a specific;
Location
Age group
Gender
Age
Interest
Another option is the 'Post End Date". Post End Date allows Page admins to specify a day and time to stop showing a post in News Feed. This tool prevents people from seeing out-of-date posts in News Feed, but posts will continue to appear on your Page. For instance, a publisher can use this to remove yesterday's weather report from News Feed.
Keep in mind though, when using the targeted audience feature, it only applies to your page followers.
For more information and suggested uses for this feature, visit https://media.fb.com/2014/12/10/new-tools-and-insights-for-publishers-2/
There a couple of Facebook Business page updates that I hope you find useful!
Happy Facebookin'!