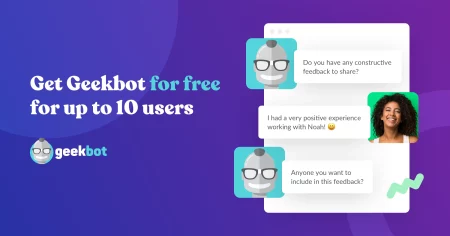 Why waste hours on manual updates when you can let Geekbot take care of it in mere minutes? Try it out today and start your journey towards maximizing efficiency!
Geekbot is the perfect tool for keeping your team aligned and in sync.
With Geekbot, you can run asynchronous standups, retros, surveys, and 1-on-1s in Slack or MS Teams. It uses AI-driven language analysis to surface real-time insights, which you can filter by date in your Geekbot dashboard. Spot progress and blockers in easy-to-understand reports so that you can make informed decisions quickly.
Geekbot also provides a Focus Mode feature that helps teams stay focused on their tasks by blocking out distractions. This feature allows users to set up custom rules for when they need to focus on their work without interruption.
With Geekbot, you get an easy-to-use tool that will help keep your team organized and productive. Try it today and see how it can help your team reach its goals!