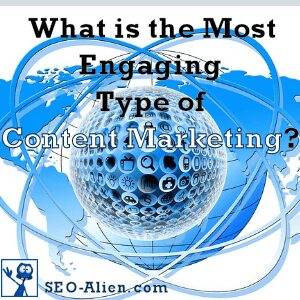 What content are people most likely to share on their social media sites? With all the different types of content on the internet, what do you thing gets the most shares?
Last month (August 2015), we ran a poll on the SEO-Alien that asked, What is the Most Engaging Type of Content Marketing? We gave 5 choices of different type of content.
An Interesting Video
An Interesting Infographic
An Interesting Image
An Online Quiz / Quiz Result
A Quality Article
The results are in!


What is interesting as well is #2 is a quiz result. Posting and sharing a good article is great for SEO, (so you can get listed for competitive search phrases on the SERPS). However, in today's SEO world, shares on social media are becoming equally important for great SEO results as well.
In the past, when anyone said "content marketing", almost all of us would have thought 'articles' or 'videos', but things are changing, there are so many different types of content creation available.
Bottom line to all this, if you are only posting "articles" you should start considering other forms of content marketing to receive more shares, more traffic and most importantly to become more "social engaging" on Social Media.
Thank you to everyone that participated in our poll!