SEO is not the same as it was. Backlinks are good, but not as great as they used to be. Today, content marketing is without question one of, (if not thee) best ways to get traffic from both Search Engines and Social Media.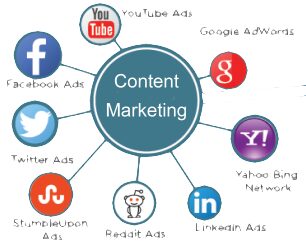 If you are creating original, quality content and find yourself frustrated because you are not getting the traffic you feel you deserve to your website/blog, be sure you are sharing your content marketing to the right places.
Content Marketing can be divided into several dozen categories, so to keep it simple I have broke it down into what I believe are the most popular.
Video Content  | Image Content | Article Content
However, no matter what category yours is, no matter what content you created, it needs to be shared on the Major Social Media Sites first.
So if you have not created your Social Media sites, start here before you start creating the others.
Facebook | LinkedIn | Google Plus | Twitter | Pinterest
After you have shared your content on all of the sites above, below I listed several sites that fit each of those above categories that you can create an account on, share your stuff, get backlinks, more views and better SEO results because of it!
Content Marketing Sites
---