SEO, (Search Engine Optimization) is a significant factor in the modern online marketing field. Writing superior content for SEO promotion is crucial because it will attract more visitors, help you gain more clients and ultimately generate more sales.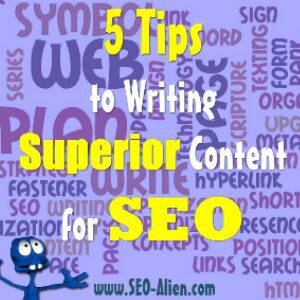 More and more business today are applying SEO promotion tactics since it helps them rank organically at the top of Search Engines. Without a doubt, content is king in SEO promotion and the content that you create should be able to attract the attention of your clients.
There are only 10 organic places on the first page of Google and most of your other top Search Engines. Competition for those top 10 places is aggressive, to say the least.  In order to compete, creating superior content for SEO that is also human-friendly is becoming more of an art.
Writing superior content is imperative for SEO promotion methods. SEO professionals need to create unique content for SEO purposes. Most of the SEO experts are not familiar with how to write superior content for SEO purposes.
Here are 5 tips that will help you to understand how to write superior content for SEO.
5 Tips That Will Help Writing Superior Content for SEO
1) Create Detailed Outlines
Writing superior content for SEO starts with creating detailed outlines of your article to help you get things right. Remember that if you are doing things right, your website and business will catch the attention of customers and retain more visitors. Creating an outline for your articles, blog posts, and web content before you start writing it will help you in many ways.
Outlines can help you to save your time and effort.  It will help you understand your audience and write on a subject that applies to them. It allows you to arrange your content for better readability and SEO promotion purposes. Creating an outline will ensure you are delivering the messages that you would like to express in your content marketing.
2) Focus On Your Audience
The success of SEO content lies in the acceptance of your audience. Hence, you should write for your audience.
Today, most of the online businesses focus on writing many articles, (sometimes too many) and fill their websites with abundant, non-relevant content. These articles may not rank well on Search Engines because of Googles complex algorithms. Today more than ever, the quality of the content matters when it comes to writing content for SEO.
The article should have the ability to not only engage your readers but also get indexed by the Search Engines. If your content is uninteresting, illogical, and unconvincing and grammatically incorrect you almost certainly are not going to benefit from it. Focus on your audience and understand their interest in order to produce superior content for your niche.
3) Use Keywords Effectively
It is crucial for SEO experts to incorporate keywords effectively in their contents. Optimize your content with the right amount of keywords and keyphrases that you are targeting in your content. 
A good number SEO writers and SEO promoters recognize the value of using keywords while writing contents. The keywords that you use in your content can affect Search Engine rankings and user experience in a big way.
When you choose keywords to incorporate in your article, relevance, prominence, and density of keywords do matter. You should also aim to use keywords naturally throughout the article and the readers should be distracted with the keywords used in your content.
4) Get Smarter With Your Content
You cannot write content for the sake of writing it because it can affect you negatively. If you want to engage your audience, you' are going to have to get more creative with your content.
Since the type of content you create and the way you distribute that content is crucial for SEO, you have to know the ways to make your content stand out from the rest.  Your content should have the ability to influence your followers as well as improve your online presence by ranking well on Google and other popular Search Engines. 
5) Create Optimized Content that is Reader Friendly
One of the main challenges content writers and marketers face is writing content that's optimized for Search Engines and still readable for humans. There is a fine line between optimizing your content for the search engines and making it still reader friendly.
SEO content is all about creating content with the aim of attracting Search Engine traffic, but still keeping it human-friendly.
If you would like to build a prosperous online business, you have to understand that writing superior content for SEO requires you to create handy content that's interesting, influential and well-optimized for search engines. You should also share that content on Twitter, Facebook, your blog and other social media platforms. 
Author Bio: I am Karen Robinson. For the past several years, I have followed my career in the writing industry, now writing content for a variety of different online websites, blogs, and many other online publications.
Presently, I love my writing job with essay writing service reviews and it also gives me ample opportunities to improve my writing skills. Writing always challenges my knowledge, but at the same time expands it.