The future of email marketing is changing and Google Plus is changing how online marketers and businesses alike will capture emails and deliver their email messages.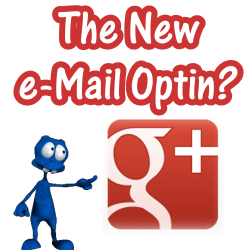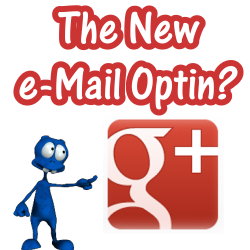 Create and deliver email marketing campaigns easier than ever without even knowing your potential customers email using Google+! Better yet, what if you email message never hit their spam box! 
Google Plus is making some major paradigm shifts in the way that online marketers and businesses are doing a lot of things  online. The days of squeeze pages, opt-in forms, email capture forms of any type can now be replaced with a more effective method… the Google+ Badge.
Google+ – The New email Marketing Opt-in? 
Before we go to far into this, I want to make sure that you DO NOT abuse this feature, but when used correctly with a plan, this is 1000x's more effective than any email capture page, squeeze page or anything else I have used, and best of all… it's free.
On the Best Online Marketing Webinar Website, about three weeks ago we replaced our email opt-in form with a Google+ badge and we have gained more followers and fans than we did in the last three months… not by capturing an email to deliver our messages to, but by NOT capturing it.
Understand that anytime anyone +1's your page, they have, in an indirect way, given you their email.. they have essentially "opted-in".
Here is how it works & how it can work for your product or business on Google+
1) Create a Google+ page for your business or product. (assuming that you have already created a Google+ profile)
2) Add the Google+ Badge to your website, blog etc.
3) When anyone plus 1's your page, add that  person to a special circle. I created one called "following". This simply tells me that this circle of people have only plus 1'd my page. As a rule I would never email these people until they have moved up to the next level.
4) There are several ways of engaging people and finding out who is really interested in what you have to offer, but one example is doing an "Event Hangout". Invite everyone.. those that RSVP for our events are now moved up into another circle. I called this circles 'fans' only to let me know that they have RSVP'd at least once for one of our hangouts.
5) Essentially what people have done at this point by RSVP'ing is letting us know that they are really interested in what we have to offer. Whether you are in Real Estate to Hot Sauce, you can make this work for you too. Now, when you post on you page, you can simple post to public and circles, but then you can also take the circle of 'fans' and email them directly.
You can even add a video, link to any page or image within your email! This makes it too simple!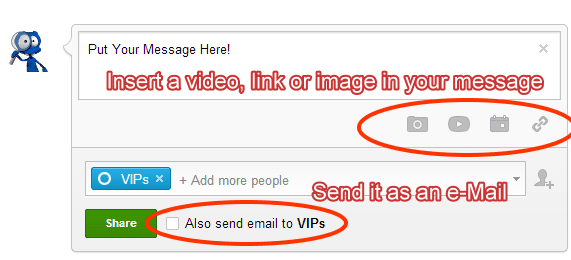 Grow Targeted Fans and Followers, but Please use the e-Mail Feature Sparingly
Again, as I said above, you want to use the email feature sparingly, anyone can "mute you" at anytime. But what we have discovered is people that have shown an 'extra interest' are not upset when you send them a 'special' or 'event update'. In fact, they would be disappointing when you didn't.
You can only email up to a certain amount of people from 1 circle, so you may have to create several circles over time. (i.e. 'fan1' 'fan2' 'fan3' circles, etc.
It's all about getting people to take small steps and after a short period of time, you will have grown a targeted group of followers that are interested in what you have to offer.
Another important note is that because it is Google that is delivering the email, I have not had one person tell me that the email has gone to spam.