I thought I would never say this, but with the current growth of Google Plus, getting started with Blogger may be something you will want to add to your to do list.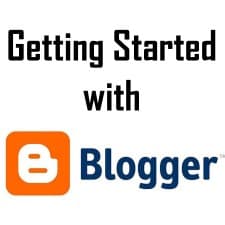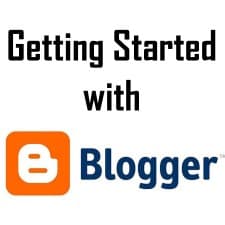 Why create a Blogger blog with Google? Let's start here. It wasn't long ago the large percentage of online marketers where laughing at Google with their attempts at creating a social media network, (including me), but recently Google Plus has made some significant changes that is changing internet marketing and social media world-wide.
I think it is important to note that Google Plus, in my belief, is not competing directly with any of the other social media networks like Facebook, Twitter or LinkedIn. What Google is doing is creating a Social Search Engine that combines Social Media and Search.
There are still many online marketers that are discrediting or simply ignoring how powerful Google Plus has become.. and I am not sure why… the facts seems to speak for themselves.
Google+ Moves up to Second Place in Social Networks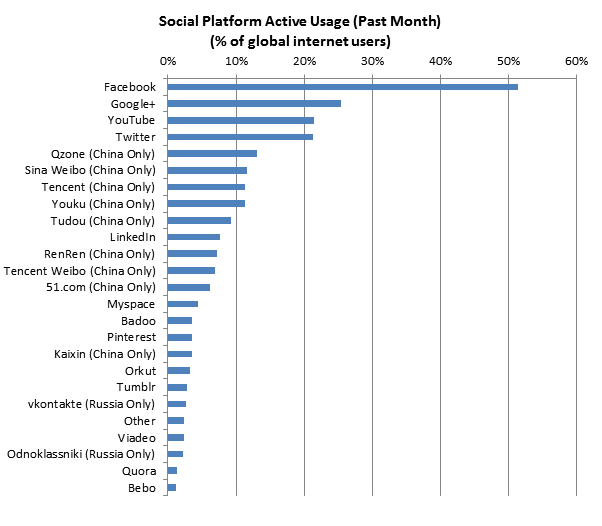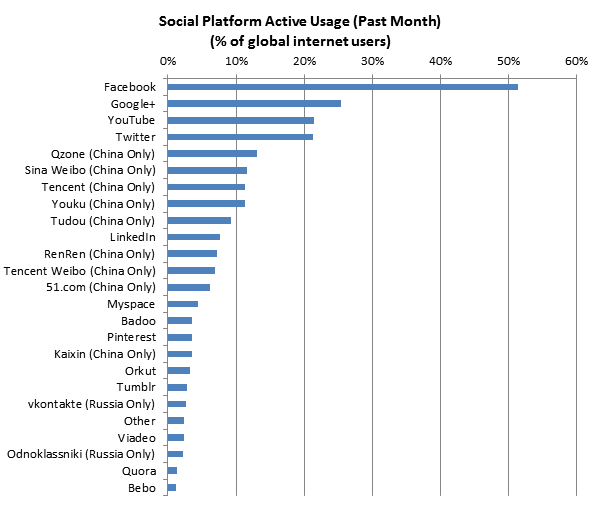 Credit: GlobalWebIndex
There are too many advances that Google is doing that are going to be game changers.
Google Drive now has an image editor that rivals expensive image editors.
Google Drive has an easy to use presentation creator similar to PowerPoint
Google+ Hangouts and Event Hangouts make it so anyone can create webinars and YouTube Videos. (companies like Gotowebinar, GotoMeeting, Join.me and the like may feel the pain.)
Google Authorship that may soon replace the value of Pagerank.
Google's Blogger is easier than ever to use with several dozen add on widgets that make it an extremely powerful and easy to use blog platform.
And those are just a few of the things that Google is up to! 
So today, I did something I thought I would never do, I decided it was time to get started with Blogger and created a Blogger account.. and why not? With the Integration that Google is doing across all of it's platforms, I had to at least take a look at what is happening to Blogger, and I must say, I was impressed to say the least.
Blogger Features

Here are just a few of the features that I think you will find useful and more importantly, so simple to use!
Templates/Layout: Google's Blogger has added several new template designs to their blog platform that compete with many premium themes for WordPress
Unlimited Blogs: First, it's free.. secondly, if you are like me and have several online marketing niches, you can quickly and easily create a blog for each one of your Google+ pages and attach that pages bio/description.
Share with Your Google+ account: With a push of a button you can add any post to your appropriate Google+ profile. In addition you can add the comment widget to the post so that any comment on you Google+ page will stream on the blog post as well.
Stats/Anaytics: Well, this is Google who created Google Anylitics, so image what they have to offer with their Google Blogger platform.
AdSense: If you are using AdSense to earn a little extra cash, one push of a button and your blogger account will post Google ads on your blogger page.
Simple to use: No need to buy a domain name, learn how to install a blog. This is step by step, click by click easy to do.
Gadgets: Google's Blogger equivalent to WordPress's widgets, and they have many of them.
RSS Feeds: There are several 'Gadgets" that will allow you to import your current blog feeds, Twitter feeds and many others.
Check Out Our Blogger Sample Site
Take a look at https://seoalien.blogspot.com and see a few of the options and features that I have added and believe me, only a fraction of the 'gadgets' that can be implemented are added.
Getting Started with Blogger
For more information on getting started with Blogger and creating your own Blogger blog, check out Googles Blogger Tutorials from https://www.blogger.com/tour_end.g and share your blogger site below in the comments with others if you wish, I am happy to share what you have created!