What is the Value of Bookmarking for SEO and Social Media marketing? There is a difference between Bookmarking to save a Website you would like to visit later and Bookmarking for Social Media and Search Engine Optimization results.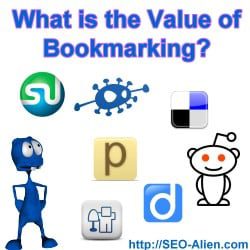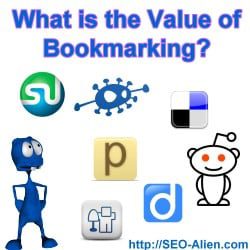 Four common questions I hear often regarding Bookmarking sites are;
What are Bookmarking Sites?
What is the Value of Bookmarking?
How should I use Bookmarking Sites?
What Bookmarking Sites should I use?
Depending on why you are on the Internet and what you use the Internet for will determine how you would most likely use Bookmarking sites. Online marketers will have a completely different strategy than someone who is more of a researcher.
Different bookmarking sites offer different values, different features and different results for the user, but before we get into strategies of and the Value of Bookmarking, let's first have an understanding about the different kinds of Bookmarking sites and what they are intended for in the first place.
What Are Bookmarking Sites?
Bookmarking is nothing new, most of us will save a favorite website to our browser using the built in bookmarking toolbar making it easier to find our favorite sites. Using online bookmarking sites will do the same thing. You can keep all your bookmarks in one place. Online Bookmarking sites make it ideal if you use different browsers and different computers, (e.g. work and home)
What is the Value of Bookmarking?
There are two main values of Bookmarking for two different types of Internet users.
1) The 'Average Internet User' will use Bookmarking sites to save favorite websites
2) 'Internet Marketers' will use Social Bookmarking sites to get extra value from the backlinks that are created by Bookmarking their Online marketing efforts. In short, bookmarking will not only give you extra "SEO Juice" from the backlinks, but Bookmarking correctly can also get your articles, websites, Blogs and even your more popular Social Media site profiles to the top of the Search Engines for specific keywords and keyphrases.
Some Bookmarking sites are what I refer to as "Micro Social Media Sites". It is common for people to "like" and "share" your Bookmarks giving the "Internet Marketer" even more variability for their articles and more eyeballs to view their stuff.  
How to Use Bookmarking Sites
For the 'Average Internet User': Using bookmarking sites is pretty simple. Find a bookmarking site you like and then simply save the link to your favorite website or post. You can add "tags" to make it easier to find your saved sites in the future as well.
For the 'Internet Marketer': These saved (bookmarked) links and tags give you some SEO Juice as well. Properly "tagging" and "titling" your articles and sites will give you that extra "SEO Juice", but more importantly, giving it a Keyphrase rich title and description may even get it to the top of the Search Engines from the Bookmarking site you used.
Bookmarking sites generally will allow you to create a profile and is some cases will also allow you to include a backlink to your website as well in that profile giving you even more SEO Juice!  (See our example on delicious)
Bookmarking Tip
When bookmarking, you can bookmark your same article, squeeze page etc. to several different bookmarking sites, but I would highly advise that you take the time and effort to change the "Title" and the "Description" slightly on each bookmarking site you use and here is why;
If you use the same "Title" and "Description" that you used on the primary article when you bookmark your article, there is a good chance that article will appear on the first page of Google several times for the same search phrase. It is very common that if Google sees that, their algorithms 'un-index' not only your article, but all of your bookmarking locations from the Search Engines, basically blacklisting your article for spam.
This is one of the reasons most people don't do it and one of the reasons why your should. On average, it takes me longer to bookmark my article than it did to write and post the article in the first place, but this is also one of the factors that get my articles the extra SEO Juice that will put me ahead of my competitors for the same search phrase.
What Bookmarking Sites Should You Use?
There are literally hundreds (if not thousands) of Bookmarking sites. For the "Average Internet User" you would only need to use the one you like the best for your needs.
For the 'Internet Marketer' however, it is a completely different strategy, so choosing your bookmarking sites wisely can make all the difference. Obviously you will want to research these sites to be sure that they fit your niche, but here are a couple of good bookmarking sites that you can start out with.
What Are Your Favorite Bookmarking Sites?