There are a variety of ways to content market online. Regardless of how many strategies and techniques of online content marketing you use, how important is quality content vs. content vs. how many times you post?
The example I am using below to show the results of quality content is a real estate client. The website domain at the time of this post is 14 months old.
This client wanted to be on the first page of Google for a specific real estate term, that phrase being extremely competitive.
We all agreed to start from scratch. This way I could build it with my "SEO-Alien technology".. with a brand spanking new domain name, brand new social media sites, etc, etc… so I accepted the challenge.
The goal was for 1 quality post per week, but often that didn't happen. We started consistently posting only 5 weeks ago. (totaling only 5 articles, once a week, for 5 weeks)
During this time we did get number one for very some competitive long tail keyphrases, but we also claimed several #2 -#5 results for many shorter, 3-4 word targeted keyphrases.
Keep in mind, during the last year we did create a variety of content, including articles, squeeze pages, email newsletter, polls, quizzes, videos, images, offline domain marketing, etc. Google loves nothing more than to see traffic coming to your website from a variety of sources and we covered it all.
But the real change happened when we started posting consistent, quality content.
So, how did we do it?
This is it, quality content. No magic, no secret adwords, nothing more than consistent (once a week) Quality Content.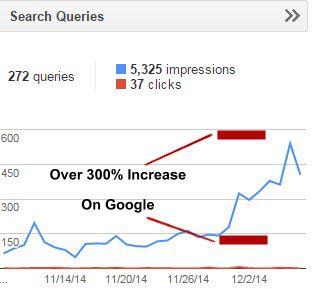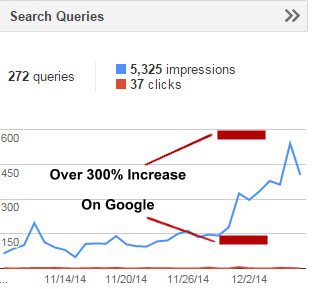 Keep in mind, Quality content works best when you first have:
#1 A solid foundation: Anyone can build a website. Not everyone knows how to build it into the Social Media and Search Engine Matrix.
#2 A Solid structure: The structure of your site has to make sense to Google. Make sure your sites structure is well planned out ahead of time.
#3 Variety of Content: Please… provide your followers (and Google) with more than just article content. Give them some variety in your postings.
#4 Quality of Content: This really should be #1, but if the first three above aren't correct, even quality isn't going to help. Don't waste your money on quality content if your foundation is weak.
#5 Consistent Pace: Once a week is all we did here over 5 weeks… that is 1 post per week, that's it.
What I really I wanted to get across in this whole article is simply the importance of quality content marketing.
To anyone marketing online, Google will never penalize quality content. Spend whatever you need to, be it more time to produce quality content or more money to invest in quality content.
"Content is King, but quality is his wife and consistency is his mother."
If you need help optimizing your WordPress content for both SEO and Social Media, check out the best SEO plugin for WordPress – Sign up here! Squirrly.