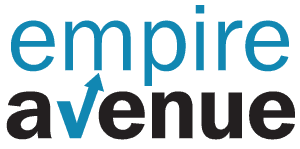 Is Empire Avenue the next big Social Media Site? It very well may be! There is a pretty new Social Media site gaining popularity in cyber-space that we started using a few weeks ago called Empire Avenue and now that we have a good grasp on it and had time to evaluate it, we wanted to share it with you so you can get yourself and/or your company on the e-market!
What is Empire Avenue?
Empire Avenue is a stock market simulation Social Media site that allows members to buy and sell shares of users, peoples Blogs and is great way to drive new traffic to your "niche" or even promote yourself.
Empire Avenue started in February of 2010 as an invitation only site before it's official launch to the public in July of 2010. So as far as Social Media sites go, it is still a relatively newbie, but it is off to a great start.
Registering on Empire Avenue will allow you to create your own ticker symbol and a portfolio for you and/or your company in this virtual stock market. The value of your stock depends on several different factors of all your other Social Media behavior. In other words, the more you use your other Social Media sites like Facebook, Twitter, YouTube, Linkedin, etc. the more value your stock is worth.
As you grow your followers on these other Social Media sites you will start to receive achievement buttons that raise the value of your e-stock. As your stock rises, the other members that have purchased e-stock in you will get paid dividends which are paid to them in credits.
Empire Avenue will drive Social Media activity and more Social Media interaction between the other registered members and you by allowing you to add your other Social Media activity to this site. When you post on Twitter, it also posts on your Empire Avenue account and will be visible to other members who bought into you.
One of the cooler features is the ability to post ads for any purpose you want with the e-money you have earned from buying into other members.
Is Empire Avenue Free?
Yes it's free! The credits earned are all virtual currency called Eaves. These are what give you the ability to buy other members e-shares, post adds, create auto-responders to new stock holders, send bulk email to your current share holders and so much more!
Though you can play for no charge, if you like Eaves can be purchased with real-world currency via PayPal, but your Eaves cannot be exchanged for real-world monies.

To start playing, It would be in your interest to follow, add favorites, endorse, or otherwise contribute to the Social Media activity of the ones you invest in and especially the ones that invest in you.
The one downfall is, much like Facebook, it is addictive and you can spend much of your time on this site simply because it is a lot of fun!
Start sharing your Social Media and grow your visibility by creating an account on Empire Avenue today! We highly recommend it!
Happy Trading!