Welcome SEO-Alien Google Groups Forum Member!
Thank you for joining our Google Forum! I wanted to share a few tips and rules that will help you get the most out of the SEO-Alien Groups for all things Social Media, Search Engine and Online Marketing.
The SEO-Alien Group Forum is a place where you can ask any question, answer questions, post any comment or even make announcements that will help all our members get the most our of Internet Marketing, Social Media Marketing and Search Engine Marketing.
There are so many cool things you can do with our Google Groups. The most obvious one is to ask questions. But what good is it if you ask a question and don't get the reply?
Change Settings to Receive Notifications
From the SEO-Alien Forum you will see  "Membership and email settings".

 When you click that you will get a "pop up" with several options;
1st Option – My Display Name: Set your display name. This is a pretty cool feature that will automatically link your Google+ profile to any comment or reply that you post to our group. Be sure to check that box.

2nd Option – Email Delivery Options:
A: In case you use several Gmail accounts, you can choose the email you would like to receive notification to.
B: Set the delivery rate.

Ask a Question – Start a Discussion – Make an Announcement
Currently I have the Groups Forum set up so you can post with two different options. (Make and Announcement is for Admins Only.)
After you click "Ask a Question" at the top of the Group home page, you will see at "type of post" where there is a drop down menu that  will allow you to select  different options for your post.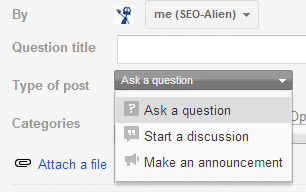 NOTE: Notice that you can also attach a file. This is a great tool for posting an image of a problem or anything you would like to share with the group.
Google Group Categories
Currently I have the categories set as required, so you must choose one to post to.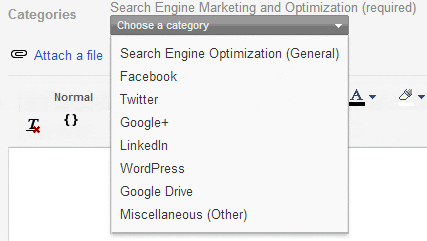 RULE # 1:

(Really the only rule)

Spamming of any sort  will not be tolerated. If you have to ask yourself if it is spammy or not, it probably is. Any questions about that, please refer to RULE #1.