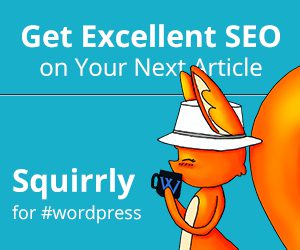 Squirrly SEO
Popular WordPress Plugins
Squirrly – Optimize your content marketing with the Best SEO Plugin for WordPress! Try it for Free! The only SEO plugin that allows you to optimize content and measure its success!
SEO By Squirrly helps you write content that is SEO friendly and ALSO Human-friendly. You'll get to improve your rankings while providing your readers with great content. See Your SEO Stats, get a weekly SEO Audit and find the best keywords.
Find it on the SEO-Alien!