Content in the 2020's is precisely the same as Coca Cola was in the 1920's.
If you too have been struggling to find a compatible content strategy that generates leads and boosts conversions, then we would like to inform you that you are not alone in this struggle.
The eternal battle for most businesses is to attract leads that convert to sales.
Finding the best content strategy is a tough task when you have no experience in content creation or management.
What is effective content?
The fact is you need to attract readers to your content. There is no rocket science behind the creation of effective content. It is a basic equation of balancing art and science to compel attention. This requires proficiency in the language, an understanding of the consumers, and a touch of oomph derived from creative thought. Ultimately, the end-user needs to be satisfied.
The situation here does not call for better content only, it requires content that can help you attract more clients to your business. If your content is not visible to the audience, then even being the first William Shakespeare of Search Engine Optimization would not be of any help.
Here is a list of the best content marketing hacks that can help you boost your traffic straightforwardly by 206 percent.
Hack One: Utilize A.I.D.A to succeed
Content marketing in the digital millennium is rather similar to traditional marketing in the sense of its purpose. One cannot build a successful strategy without following the Rosetta stone of
AWARENESS
INTEREST
DESIRE
ACTION
This model is the best-known marketing formula due to the brevity it holds. It is usefully applied every day, with or without conscious action. This is how you can apply the model to a content marketing campaign.
Create Awareness: The first step is to create brand awareness about your product/service.
Develop Interest: Generate interest in the advantages of consuming your product. Once you have sufficiently engaged the audience in your wares, then they are most likely to peruse your website on the internet.
Promote Desire: Develop an emotional connection with your audience through creative storytelling. You need to design your campaign in a way that the consumer begins to associate you with a feeling, visual projection, or experience.
Prompt Action: Once you have succeeded in the first three steps then your potential client is definitely going to convert into a sale, a download, a phone call, or whatnot!
Hack Two: Start a blog and keep working on it
Blogging is by far one of the best ways to boost returns on investment, albeit the time it takes to build one. It is a valuable content marketing scheme that allows you to retain user-attention and redirect them to your products.
Blogging is considered the most reliable route to increased search traffic. It qualifies as a helpful resource when your content adds value to the life of the readers. Neil Patel, one of the leading influencers in the content industry always speaks in favor of the concept due to its potential to boost inbound traffic.
The key here is to boost traffic on your blog by maintaining high quality and voila you are good to go!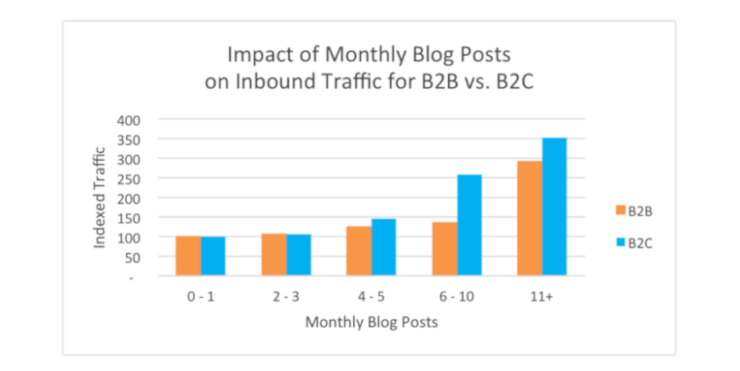 Hack Three: Become best friends with social media
If you are business in 2020 without a strong presence on social media, then we regret to inform you that you are in a similar boat as Christopher McCandless from the 2007 film, Into The Wild.
The value of social media in the success of a marketing campaign is often underestimated. But the fact is that there are nearly 4.55 billion social media users across the world who are living in a borderless bubble of globalized consumerism.
Long gone are the days when going to the next continent would cost all of your life savings and sanity. Social media has played a significant role in blurring the boundaries between people and has helped businesses increase their reach to international segments of the target population. The stellar success of beauty moguls Kylie Jenner and Huda Kattan is a testament to the fact that social media can truly influence a follower to become a client in less than a few seconds.
If 46% of the world's population is already on the internet in 2020, it is logical to assume the potential of growth for all ecommerce businesses in the near future.
So share user-generated content from your fans, hold giveaways and contest regularly, make use of visuals and videos, use more emojis, and the list is endless. Make sure the timing of your posts is on point. With these practices, you are definitely going to attract the right audience in no time.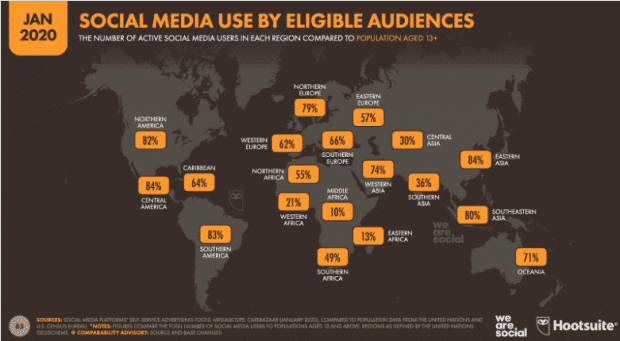 Hack Four: Understand the science of going viral
Viral content is the best way to create an audience-specific message that attracts clients. The focus must be placed on emotionally resonant content that benefits both the parties involved in the exchange of the content.
If you read enough about the subject of content marketing and creation, you will realize that the only way for a business to connect with its clients is to have a story that can resonate with them. SEO specialists at Setalks suggest that content marketing should primarily focus on educating the customer on how your product can solve their problem.
So when companies choose to post user-generated content such as product reviews and photos, they show the world that their product deserves a position in their lives. This directly puts across the message that the business has authority over their target audience and have a high rate of engagement too.
When all of these requirements are met, then you can intentionally create content that goes viral. To be honest most of the viral content is in truth, an absurdist philosopher's wet dream. We know this was a little harsh, but we had to hit at point-blank!
Final Takeaways
We could have written an extensive post with tens of tricks about boosting clientele with content marketing, but we chose to take the road less traveled. We chose to share the secrets that lie at the crux of all content marketing tips and tricks.
High-quality content is the yellow-brick-road to success that enables you to put across your message in a language that your clients understand and can respond to. If you started to advertise a gym membership on Pizza Hut's app or a dentist's practice on a Coca Cola fridge, then imagine what the size of your clientele would be!
If you are still unable to find the best-suited solution for your business, then there is no harm in seeking professional guidance.
Let us know your thoughts in the comments down below. We would love to hear from you. Until then, ciao.​

About the Author: Alma Causey
Alma is a Freelance writer by day and sports fan by night. She writes about Fashion and Tech. Live simply, give generously, watch football and a technology lover.
Micro Startups is your online destination for everything startup. We're dedicated to spreading the word about hard-working solopreneurs and SMEs making waves in the business world. Visit the blog for your latest dose of startup, entrepreneur, and charity insights from top experts around the globe @getmicrostarted.