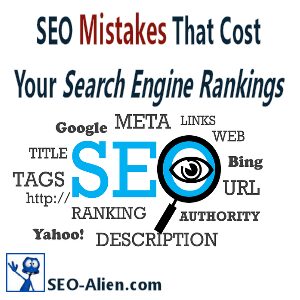 Believe it or not, but even the seasoned SEO's commit some of the most dreaded mistakes. Not that they are deliberately committing these mistakes, it's just that there are errors that are beyond their control and awareness.
Guest post by Tristan Jasper Escoto: The only time most of us attempt to discover our SEO errors is when there are a few decreases in the ranking reports. If you are struggling to determine what you've been doing wrong all along, here are some common SEO mistakes that jeopardize your rankings.
1) Using Unnatural Anchor Texts
Any linking strategy would not be complete without the use of anchor texts. However, for Google to understand the content of the target page, there should be a relevant anchor text.
However, we are still seeing 'Click Here' or 'Leave Page Now' as anchor texts when it should be the keyword. When hyperlinking, Google only counts the anchor text that first appears in a page. Use anchor texts for both internal and external links. Optimize a page by diversifying the anchor texts you use.
2) Ignoring Broken Links
A broken link ruptures the momentum and thus, the user experience. Also, Google penalizes websites with too many broken links. Broken links are inevitable especially for external links since some sites are updating, moving or removing their pages.
This might be hard to notice, but there are free online tools that can help you in identifying broken links. When fixing the links, make sure that you are fixing broken links on both texts and images. Also, keep a reasonable number of links.
3) Failing to Optimize Title Tags and Meta Descriptions
Keep meta descriptions within 160 characters.
Title tags and meta descriptions appear on the results page. Conduct an SEO audit of your website. For sure, there is at least one page with no title tag and meta description. If all pages have title tags and meta tags, chances are, these are just duplicates.
For the title tags, aside from being unique, they should be descriptive as well. For the meta descriptions, think of them as an opportunity to pitch to your target audience, encouraging them to click your listing and not the others.
4) Publishing Low-Quality Content
Google might've a comprehensive list of quality guidelines. The question is – are you following these guidelines? If not, don't be surprised if the search giant will penalize your site. For one, you must never publish spun articles (or those generated through article spinning software).
While these articles might be optimized, you will never earn the trust of your readers and you can never encourage them to take actions based on what they've read. Don't ruin the brand equity; write materials that you will be proud of publishing on your site. Publish link-worthy contents.
5) Having Poor Navigation
Good site navigation is critical in keeping its bounce rate low. Remember that users can easily go to another website if they think that your web design is a disaster. Make life easier for your visitors by implementing a clear navigation which may include breadcrumbs, login boxes, call to action buttons, etc. Reduce clutter by avoiding to overcrowd the site's menu. Also, emphasize the most important navigational tools.
6) Having Low Page Speed Score
Page speed is another ranking factor and it is often the difference between a great site and a mediocre site. Will you abandon a page if it takes more than 10 seconds to load? Yes, you will. Your users too will leave your site and head to another fast loading site when they experience this. Users bail and they bail fast because they don't have the patience to wait for your slow site to load so they can start browsing.
Determine your page speed score so you may know which elements of your site are actually slowing it. It could be the heavy images or the JavaScript files that blocks rendering. Whichever it is, you next goal should be to speed up your website.
7) Disregarding Becoming Mobile-Friendly
Aside from the fact that Google penalizes sites that are not mobile-friendly, you are deliberately excluding mobile-first users (or those users who prefer mobile devices over other devices) in experiencing your site. Conduct a mobile friendly test by Google to determine if your site is already mobile-friendly, or if it is, to determine how it looks when viewed through a mobile device. There will be some recommendations so proceed accordingly.
---
All of these mistakes affect the user experience which basically explains why your search ranking is dwindling. Nowadays, SEO is more of about search experience optimization.
You might be committing these mistakes unknowingly. Thus, this is high time you conduct an SEO audit of your website otherwise you will keep losing traffic in favor of your competitor. Don't let this happen to your site!