Recently, rumors began swirling that Yahoo wants to reassert its search engine dominance by re-entering the market. That may be easier said than done though, because Google has conquered the arena, and enjoys a market share that's over 80 percent.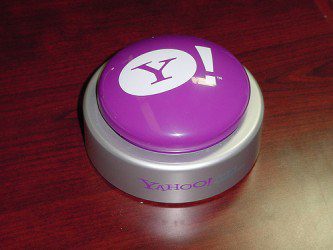 Guest post by Adrienne Erin: That success is largely due to a fine-tuned and carefully developed search technology, not to mention hoards of advertisers who are eager to associate with the Internet giant. Read below to learn more about what this development could mean for Internet users, particularly in terms of search engine optimization.
Yahoo May Be Dissatisfied With Bing Partnership
In 2009, Yahoo and Bing teamed up in an effort to work together and dilute some of the power Google was exercising over the search engine market. The concept seemed smart, but so far it has failed to deliver positive results. 
Although advertising prices have fallen over the years, Yahoo has experienced a downturn in the number of paid clicks. A growing frustration with the lack of positive change might have spurred the company to take matters into its own hands by creating a search engine that's friendlier toward the kinds of SEO changes Google implemented most recently in its Hummingbird update. 
Potential Search Engine Could Cater to Mobile Users
About a year ago, Yahoo re-designed its homepage news feed so it would be easier to use if people were on mobile devices. Two projects code-named Fast Break and Curve Ball are thought to be what Yahoo CEO Marissa Mayer is calling projects that might make her company a power player on the Internet again. A respected tech blogger has also asserted the new search engine might be developed for the mobile world, a fact which in itself would set the technology apart.
Such an advancement could make it much easier for people to conduct research on the go and also help companies gain better search engine rankings for their mobile sites. For example, if an employee was sent to find out options for emergency power systems and needed to learn more about possibilities while away from the office, a mobile-friendly search engine like the one Yahoo might have in the works could make the task much more efficient.
Yahoo Asked Yelp for Help With Local Search
If you've ever wanted to read reviews about a new website you've been thinking about checking out, chances are you've depended on Yelp. Armed with the knowledge that people frequently use Yelp for information about local businesses, Yahoo has gone to Yelp to improve local search functionality. Soon, people who search for things on Yahoo should notice the results are enhanced with localized Yelp listings.
Although it's still too early to tell for sure if Yahoo is serious about once again becoming a player in the world of search engines, marketers and others who want their websites to be maximally visible might not just adhere to Google's recommendations but also start paying attention to Yahoo's algorithms.