Why Brand Marketing – Not Discounts – is a Long-Term Investment for Sales and Profits
Consumers have more access to products and services than ever before. With just a few clicks, people can order just about anything and have it on their doorstep in a day or so.
When everyone offers the same convenience, how does a business stand out?
Distinctive branding is one of the few opportunities a business has to set itself apart from competitors. If you think of some of the most successful brands of all time, such as Disney, Ferrari, Apple, and Google, they didn't get there by offering continuous sales and discounts. That's just a fast-track to the bottom.
Branding Benefits
Branding can be a time-consuming and expensive process. Businesses invest a lot in brand names, trademarks, logos, and other assets. Why? Because doing so is the foundation for long-term sales and profitability.
And it pays off – the right branding can determine whether a business is recognized and remembered, whether consumers will choose a product over a competitor's, and whether future extensions or product development will be successful.
Branding also helps businesses build customer loyalty and leverage premium pricing. When consumers trust a brand and have positive experiences, they're more likely to stick with that brand's products – even if it's more expensive than competitors' products.
Think about it – you probably have a favorite laundry detergent or dish soap. When you go shopping, you don't need to consider your options with these staple products. You simply buy your favorite when it's available. While these are small purchases, they add up over time.
How to Launch a Successful Brand Campaign
1. Determine Positioning
Customers have a perception of your business, regardless of whether it's the one you choose. Brand positioning helps you control the narrative and craft the perception you want from the public, and that's achieved through clear, defined messaging.
2. Define the Target Audience
Like all marketing efforts, branding should be focused on your target audience. Creating campaigns and messaging that's designed to resonate with your ideal customers, not a broad audience, and provide the most value.
3. Focus on the Long Term
Brand recognition and loyalty takes time – a lot more than offering a quick promotion for sales. Avoid investing a lot of your marketing spend in huge branding efforts. Use small, frequent campaigns and consistent messaging to build brand awareness and test and refine your campaigns as you go.
4. Plan Your Customer Touchpoints
When you start small with your campaigns, you can focus your efforts on achieving the maximum results. Keep your campaigns limited to the outlets with the broadest section of your target audiences, and take the time to engage with your customers and shape the brand narrative. Don't be afraid to ask for feedback and use it to inform your future campaigns. With this foundation, you can scale your campaigns better in the future.
5. Invest in Your Brand for Sustainable Success
Becoming Apple or Google takes time, effort, and investment. You have to start with a strong foundation and use your unique story and messaging to create the experience your customers want, so you can gain sales and profits now and into the future.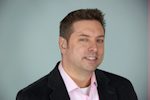 About the Author: Patrick Smith
With ideas for leading brands, Patrick solves real-world business problems for enterprise organizations, startups, and everything in between. Prior to C2 Creative, Patrick developed marketing campaigns at several leading advertising agencies and hybrid digital organizations. He holds a Bachelor's Degree in Graphic Design from Illinois State University.