Your blog is informative and entertaining – but so is everyone else's. Some of those bloggers are outperforming you because they have better content, better connections or wider reach. They're also voices of authority, so their blogs carry a lot of weight.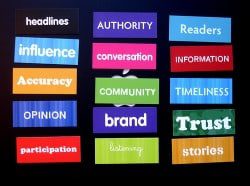 No matter how sharp your insights or predictions, they won't matter if you don't have the credibility to deliver them. If you've been blogging for a while and your two cents aren't catching on, it's time to be more aggressive. Follow these four steps, and you could give those other blogs a run for their money.
Learn Your Topic Inside and Out
A dilettante knows a little bit about everything, but probably doesn't have much traffic on her blog. People would rather listen to someone who knows everything about a subject. Become that person. Learn everything you can about your field. Attend events. Work on projects. Read all the articles, including other blogs. The more you know about your chosen topic, the better your chances of becoming the go-to source of information.
Drop Names
In business, it's all about who you know. This is especially true when it comes to blogging. You'll get more traction if you can connect with key players in your industry and drop their names in your blog. For instance, the head of a Baltimore internet marketing company could attend a marketing seminar and supplement his observations with quotes from attendees and speakers, or get an exclusive interview with a bigwig in the field.
Use a Variety of Formats
Do blogs sometimes start to look like a sea of nonsensical letters? If so, don't worry – it happens to everyone. That may be why so many bloggers are mixing it up with new content formats. A cool infographic delivers information in a more intuitive way, and it's more likely to be shared across social media. A video can be an entertaining way to communicate with your audience, and it turns YouTube into a viable new marketing channel for your business.
Build a Resource Page
If you present yourself as an authority, people assume you know a lot. A resource page will prove them right. The information you provide is up to you – directories and listings are a popular choice – as long as you include as many items as possible. This resource page has an added benefit for you. If you ever want to write about the 10 best this or the 5 most effective that, you have the information right on your site.
You're not the only one blogging about your topic of choice, so there has to be a compelling reason for people to choose your blog over all the rest. Turning your blog into a source of authority is one way to do this.

About the Author: Adrienne Erin
Adrienne is a freelance writer who loves learning new things about internet and social media marketing. Check out her personal blog, Pongra