It is 2020. eCommerce is the same everywhere – challenging, competitive, and expanding.
So, whether you are starting your online store on an individual website or you are starting an online store on Amazon, more or less the same strategies will apply.
However, selling on Amazon has many more benefits than selling your products through your ecommerce store. These include:
More traffic to your website/store
Brand recognition and niche authority
Higher visibility of your products in search engines and even on affiliate channels
Faster selling of items through bounced traffic
Competitive pricing can help you stay on top of the game
More profits through upsells
Bulk selling offers even more benefits
Reputation matters as it is directly linked with search rankings.
But, when creating your ecommerce store, you need to create a strategy of how you are going to promote your items. This means you need to answer the following questions:
Are you going to go general or niche?
Who are your competitors, and what are your yearly goals?
What marketing channels are available to you?
What is your budget?
How many resources do you have available?
What business model will you use for your business?
Before you start with eCommerce, make sure that you have answered all these questions. These are the basis of your eCommerce store vision, and they will lead your future targets.
Now that we are settled about the questions you need to ask yourself let's learn about things you should be considering before you start your first Amazon based eCommerce store. We will also tell you about how to make a strategy that can work for your Amazon store business in the long term.
Starting Your Online Store on Amazon? Read These Points
1. Amazon FBA Policies
The first thing you need is to read the Amazon policy and requirement document.
Amazon policies keep changing, so make sure that you read the latest version from the link available above.
These policies will help you learn the DOs and DON'Ts of working on Amazon. As an online store owner on Amazon, you will have multiple options for delivery and inventory management, more on this below.
2. Niche Focus
Now that you have read the Amazon policies find out what niche will work best for you.
Most people are selling general items on Amazon because they are easy to sell. However, some people prefer to go niche. They sell items that are specific to a niche only. What it does is that it builds its authority in the market. More people are going to buy their products because they are an authority and people are aware of their brand.
However, niche products require more time to sell because there are not many buyers of a product. On the other hand, general products sell faster because of their daily use.
3. Fulfillment by Amazon (FBA) or Fulfillment By Merchant (FBM)
Next, decide the type of shipping model will you use for your eCommerce store.
Amazon allows you to ship your products by yourself. This process is called FBM.
On the other hand, if you allow Amazon to ship your products directly to your customers, then you will need FBA. However, before getting FBA for your business, make sure that you understand the Amazon charges for your products.
Amazon usually keeps a commission on all products that are shipped through its warehouses.
4. Price Point
Another thing to consider while starting your Amazon eCommerce store is the price difference.
If your competitor is selling at a price that's quite low, then you can't compete with them for that product. So, what do you do?
Two options: Either sell for an even lower price or find a Unique Selling Proposition (USP) in your product and sell that.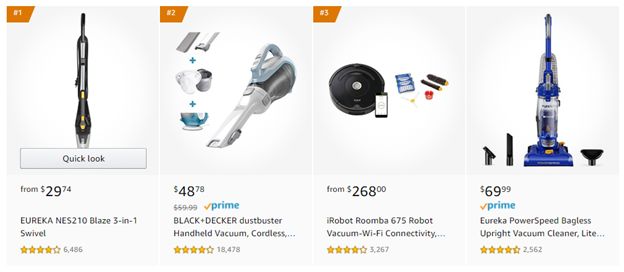 You need to remember that if you can't beat your competitors on price, beat them on the quality you offer.
5. Promotions
Promotions are another way to promote your products on Amazon. However, you cannot promote Amazon products directly through social media and search engines.
To do so, you will have to create another eCommerce store – on a separate domain and then promote it. Promotions can vary from social, search, and paid platforms to direct marketing through lead generation.
6. Buy Box Matters
You also need to understand that products only get sold when people click on the 'Buy' button. However, in the Amazon eCommerce platform, not many people are going to click on the buy box button unless they are tempted to do so.
How do you tempt them then? By telling about the features of your products in the Amazon description box.

Image of Buy Box on Amazon.com
7. Inventory Management Matters
On Amazon, your rankings depend on the orders you receive daily. The more orders you receive, the higher you move in the Amazon SERPs. So, you must manage your Amazon inventory tactfully. Buyers on Amazon can check the number of orders of a product in the past year. The more orders a product has, the higher it will rank. So, make a strategy that helps you outdo the competition by getting more orders.
8. Going Omni Channel
Last but not least, always have a strategy for your business extension. You simply can't grow your business by marketing on Amazon alone. So, make sure that you go omnichannel and promote your products through your eCommerce store, social media pages, YouTube channels, and even on mobile apps. Omnichannel marketing is the best way to promote products in 2020 because people exist on all platforms. You simply can't get the best promotion for your product by just promoting on Amazon because the competition is fierce.
It is even better to get Amazon FBA training from an Amazon expert before getting into the game. The training will help you learn the basics and about how you should create the strategy of your business.

About the Author: Alma Causey
Alma is a Freelance writer by day and sports fan by night. She writes about Fashion and Tech. Live simply, give generously, watch football and a technology lover.
Micro Startups is your online destination for everything startup. We're dedicated to spreading the word about hard-working solopreneurs and SMEs making waves in the business world. Visit the blog for your latest dose of startup, entrepreneur, and charity insights from top experts around the globe @getmicrostarted.