Big companies keep updating their sites to keep up with the new trends in web design and development.
On the other hand, small business owners only use social media like Facebook, Instagram and twitter to reach out to their customers.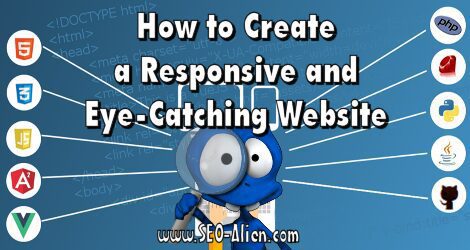 These social networking sites should just be variants to attract more customers. It's always best to lead customers to your website where they can get a clearer information about the nature of your business as well as how they can gain benefit from your products or services.​
As a business owner, you want to attract more customers. A company website is essential for the success of your business.
Here are some useful tips in creating or redesigning your existing company website.
How to design a website that's responsive and eye-catching:
Simple, yet unique design
Your website should reflect your brand. It has to be simple and unique enough to attract potential customers. Always try to stand out from your competitors by keeping your homepage free from unnecessary stuff. A website that's too loaded with information might drive away visitors. Put distinct and brief information about your company.
Significant Content
Your website content should be significant, informative, easy to navigate, and SEO-friendly. Search engines look through your content, so keep the structure of your content SEO-friendly. This way, your website will go forward to the first pages in search results.
Your web content should be readable and interesting for users. Keep your content fresh by highlighting trends, events, news, and facts which are useful for your potential customers.
Fast Load Time
A website load time plays an important role in building your company reputation. A slow site isn't going to impress users, they might just leave once they get impatient with the slow load time. Browsing within your site and making a purchase should not be a time-consuming task.
To improve your site load time, design a website with less flash animations, choose quality web hosting, and don't put too much JavaScript. Always test your current site's speed and make sure your website loads within 1 to 4 seconds.
Prioritize UX (User Experience) Design
UX (User Experience) design plays a vital role in enhancing end-user satisfaction. UX design is the process of creating technology that caters to your user's needs. It involves solving problems to make their site experience a better one. A properly built site attracts both search engines and people.
Improve UI (User Interface) Design
User Interface (UI) Design is focused on anticipating the needs of your users and ensuring that your website interface has the elements to facilitate their needs. Design a website that will provide ease of access. UI is more than just the design of the website; it's also about interaction and visual design.
Some UI elements are:
Input Controls such as buttons, radio buttons, text fields, checkboxes, list boxes, drop-down lists, toggles, date field, etc.
Navigational Components such as slider, search field, breadcrumb, pagination, tags and icons.
Informational Components such as tooltips, progress bar, icons, notifications, message boxes, and modal windows
Responsive Design
A responsive design is currently the most required functionality today. With its ability to respond depending on the user's behavior based on screen size, resolution, and orientation, it's highly recommended for every website. Website traffic is higher in mobile devices and tablets. A responsive web design is very important in making your business website easily accessible for users on different platforms.
In order for a website to be considered responsive, it should have these three key features:
The website must have flexible grid foundation.
The images incorporated into the design must also be flexible.
Different views should be enabled in different contexts through media queries.
These are pretty much the basic things to consider in creating a responsive and eye-catching website. Having well-designed website is not just beneficial but also necessary in the success of your business. Customers rely on google searches and websites to determine which products or services suit their needs. Constantly update the features of your site to keep up with new web design trends and to attract more customers.

About the Author: Christian Jude Cuyos
Christian is an enthusiast, who transforms complicated ideas into more suitable and valuable to readers. He thrives on challenges, particularly those that expand the company's reach. together with ConvertBetter, an expert on technology integrations, innovation and online marketing company helps him be a professional marketer.