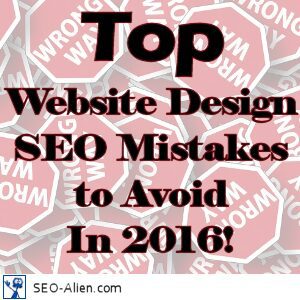 Effective website design is today less about superficial aesthetics and more about how well the site is structured for navigation, both by users and search engine bots, so that information can be accessed quickly, logically, and conveniently. If users do not find the site to be easy to use, it will really not matter even if it looks great.
Perhaps the most important factor that makes the site rank high in the search engine results page is search engine optimization. SEO has emerged as a full-fledged science devoted to tweaking the site to make it more search engine friendly.
Some tips on mistakes to avoid when you next go in for a site overhaul or a new site development:
Not Incorporating SEO Ground-Up
When designing a website or going in for a site redesign, it can be very easy to get waylaid by stuff that adds glitz and glamour, and loads of aesthetic appeal. However, to ensure that your users find your site really attractive, you actually need to be focusing more on SEO elements that can enhance the visibility of the site by driving it up the search engine page rankings to attract more traffic.
The major factors that you need to take into account are discoverability and site accessibility, and the biggest mistake that is usually made is not including SEO into your design strategy from the very start.
Since SEO considerations can affect virtually every aspect of how you structure the website, it is quite likely that you may have to dismantle a lot of work that you had already put in, if you wake up to SEO at a later stage. Going in for a redesign at a time when the site may be ready for coding can prove to be costly both in times of the time taken and the extra investment required.
Not Conducting a Site Audit
"If users do not find the site to be easy to use, it will really not matter even if it looks great."
If you are going in for a completely new site to replace your existing site or substantially redesigning it, then swinging into action without first taking the time to determine the faults of the existing website, as well as the good points, can lead to disaster.
Some of the key parameters that should be kept in mind when conducting a site audit include, among others, the average number of visitors per month as also unique visitors, keywords that performed exceptionally well, number of pages that were indexed, number of inbound links, besides the total number of pages that received web traffic.
When redesigning the site, it is vital to reassess the purpose of each webpage because you should make each page count in terms of delivering utility to visitors. You can avoid a lot of headaches by building a navigational map that includes SEO considerations.
Not Identifying and Including Popular Keywords
Because search engine algorithms have advanced to a great degree, it is impossible to get away with keyword stuffing, a once-popular technique. Currently, if you are discovered to be stuffing keywords or even hiding them on the site, Google penalizes you by driving your rankings down.
What Google really wants you to do is to create content that is really high quality, and let keywords appear in a natural way. It is best that you think about the keywords that users are most likely to use when they are looking for information and include them naturally into your content.
Not Establishing 301 Redirects
You need to set up a 301 redirect when you are permanently redirecting one URL to another, as may be required in case you are switching your domain, going in for URL restructuring or even consolidating content as an element of the site redesign.
If you do not set up a 301 redirect then any user using a link that is not valid anymore will not be able to access content that is now residing elsewhere. When visitors see "Page Not Found" message, they tend to get frustrated, and Google also drops your site down in the SERPs.
Not Considering Your URL Structure
In case your existing site has lots of really long and complex URLs that do not reflect the contents of the page, then you should definitely make URL restructuring a top priority when you are going in for a redesign.
For those wondering about the impact of SEO, it appears that very much like human visitors even search engine bots prefer URLs that are easy to decipher and accurately reflect the contents of the page. A good way of doing this is to separate words in the URL with dashes and not underscores since Google interprets dashes to be separators, which effectively means that results can be returned even when your search term includes even a single word contained in the URL.
When underscores are used in between words in the URL, Google treats them to be connected and returns results only when the entire word sequence is used as a search term.
Not Removing Spammy Backlinks
Getting inbound links from authority sites is a very good way of proving your credentials to search engines, however, the ranking could take a nosedive if Google suspects that the links are from sites that are not related to the subject or are of very low quality.
When undertaking a website redesign, it is a good time to take stock of the backlinks and have the shady ones deleted. You can use Google Search Console to find out which of the links are being detected as being spammy by Google, and then make the links 'no-follow' so that Google ignores them and doesn't penalize you. There are also a number of other tools that you can use to identify low-quality links so that they can be removed.
Not Employing Responsive Design
With mobile web searches already overtaking desktop queries, mobile devices are a force to be reckoned with even when designing your website. The days of having a separate site for mobile users to log into are more or less gone with the emergence of responsive design technology.
By implementing responsive technology you can have the advantage of maintaining only one URL across multiple devices serving up the same HTML code. This is unlike a situation where you need a separate mobile-only site with a different URL or an implementation of dynamic serving that keeps the same URL but serves HTML code that is different.
When responsive design is implemented, only the styling, organized by CSS, changes across devices, and this makes the sites and pages more accessible to Google bots for retrieving content.
Conclusion
Web designers need to acknowledge that now Google is intent upon delivering answers to users' queries rather than the results it used to serve up earlier. It rewards sites that have useful and original content that is served up intelligently and logically.