There has been an increasing trend lately of creating a quiz, survey or poll and sharing on social media. The idea is not only to create more interaction, but you can also build your list or offer special promotions at the end of the quiz, survey or poll that you create.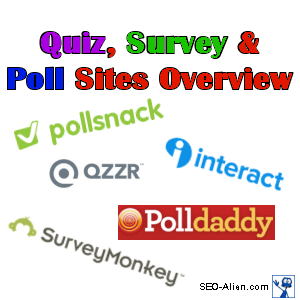 But What Quiz, Survey or Poll Site is Best for You?
There are several different sites that you can use to create a quiz, survey, poll or even a personality quiz. Some are better than others, some offer more with their free offer, some offer very little, some are user-friendly, others not as much. If you are looking to create a survey for your site and/or share on social media, to save you some time and help you choose the right survey site, here are a few that I have used and what they offer.


With Pollsnack you can create a variety of forms; quizzes, survey, polls and personality quizzes. I like this sites form builder because they offer a variety of sizes, colors and styles that you can use for your forms that makes embedding with the size you want on your website simple. The free version of Pollsnacks app comes with some publishing restrictions. This means that you only encounter these limitations after publishing your widget. To get rid of these restrictions you need to use a few SnackTools points. Their premium membership starts at only $16/month and you would need to choose this upgrade to collect emails. The embed version is on the right, you can view the online version from here.


Polldaddy allows you to create Surveys, Polls, Quizzes. Another feature for WordPress websites is the Ratings feature that you can add to any or all of your WordPress posts. This allows visitors to rate your articles from 1 to 5 stars. With the free version you can create unlimited polls, view results. $0 forever. Content contains Polldaddy links, Basic reports for polls, surveys, & quizzes. Other than that, you get it all. There dashboard is extremely user-friendly, but one of the features I like the most are the settings for what you can do after people take the poll. All of these are options that you can control.
Repeat voting
Hide results
Allow comments
If you own a WordPress site, they have a great plugin that allows you to easily add the forms and the ratings feature to your posts. A sample of the embed is to the above right, view the online version from here.


tryinteract allows you to embed quizzes on your website to engage customers and generate leads, but with the free version, you can only create 2. This is a great tool for collecting emails though and if you want to create 1 or 2 just for that, it is worth it with the free version. Another real cool feature is you can direct people to a specific part of the questionnaire based on their answers. e.g. If someone scores a 10 you can send them to a different ending page that someone that scored a 20. Integrates with all the top email marketing and automation programs; Mailchimp, Constant Contact, Marketo, AWeber, Feedburner and Mad Mimi. You can easily share your quiz on social media sites, but the embed code for your website is not as flexible. You cannot adjust the width or height of your quiz, so you can't use it in a widget. The website version of the quiz is below, you can see the online version from here. The starting plan for their paid version is only $29/mo.


QZZR allows you to create either a graded quiz (e.g. "Where is this in the US") or an outcome quiz (e.g. "Which type of Superhero are you"). With the free version, you can collect 5 leads, promote 10 offers and 25 share redirects per quiz. However, you can create unlimited responses and create unlimited quizzes with the free version. The paid version starts at $19.00/mo. Create multiple choices and true or false answers and flexible color options for your quiz. However, there is not an option for adding the quiz to your blogs sidebars, but the mobile and online version of this quiz rocks! See it on this site from here. I also believe this form is one of the better ones to get more shares on Social Media and the ability for to brand you or your company on the quiz is great as well QZZR does have some unique features that does make it worth a look. What I like most is the ability to score people's results and give them a comparison to others that have taken the quiz so they can see where they stand. I also like that when people answer the incorrect answer, you can put the right answer and a description on the bottom of the page. You have the option to create a "redirect" that will send people to your websites embedded version or you can send people to the online version. Take a look, I think you will like it, you can view the online version from here.

Create your free online surveys with SurveyMonkey , the world's leading questionnaire tool.

The free version of SurveyMonkey allows you to create 10 questions per survey and collect only 100 responses per survey. The paid version starts at $26/mo. This site has tons of options and features when creating your surveys! I highly suggest you at least check this site out for yourself. You can easily change the embed forms height and width to fit your website, you can also use it as a "pop-up" on your website. You have several options at the end of the quiz including sending people to the survey results or not. With the paid upgrade, you can also use Question Skip Logic. This feature will redirect respondents to another page of your survey based on their answer. One of the embed versions is to the above right and you can view the online version from here.

There is one other that I didn't mention here that you may want to check out and that is Google Drive. In Google drive you can create forms, but it is kinda geeky. I hope this helps you in choosing the right site to create your Quiz, Survey or Poll! If you can suggest any others that you found, please let me know below in the comments.