The holiday season is almost here. Think about it ‒ Black Friday, Christmas Day and New Year's Eve are one of the biggest sale days. By this time, marketers are already taking their social media strategy to the next level to boost their sales. After all, an exclusive holiday sale is always attracting to potential customers out there.
There is no doubt that the competition is fierce, and to stand out from the rest of the pack, you need to know how to compete with other online marketing companies.
In this article, we'll talk about how you can add seasonal spice to your social marketing campaign during the holidays.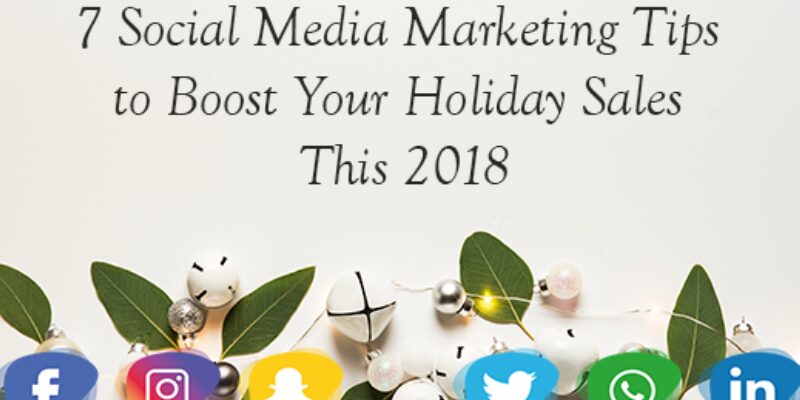 1. Produce a Year-End Roundups
Year-end round-ups generate a lot of traffic as the content outline is easy enough to digest to the average reader. So, compile all your most popular posts this year. Better yet, make a list of all the best insights that specifically target your audience. Your goal should be to come up with a type of content that is both informative and helpful. You can do so by creating infographics about different holiday facts that relate to your brand in some way, or interview people in your specific industry for a predictions post.
2. Run Giveaways and Contest
People love free giveaways and contests. The holidays are the best time of the year to give something back to your followers. So, host a competition, and give away free products and services. These entries could be based on a festive-related quiz, poll, or a user-generated material.
Be creative ‒ you can also ask your followers to come up with their content, and tag you by using a unique holiday-themed hashtag. You can also ask them to feature some of your products in their post. Even if you think you don't have physical products to give away, why not offer your followers a free download of an e-book, exclusive audio or video content? Other marketers and retailers think that hosting contests and giveaways are a waste of time and money. However, what they don't know is that it's an excellent opportunity to be a lead magnet and boost email lists for increased conversions and sales.
3. Create Special Offers
So you want to create a buzz or a large number of sales this holiday season. Then why not create a special offer and share these posts on social media? Essentially, promote these offers to be available only for a specific period or for a limited time. You can include discounted prices, exclusive coupons, or free shipping.
Your goal is to make your customers glued to your social media pages by offering them special deals and rewards. You can also try a series of special offers to make your customers come back on your website on a regular basis such as a 12-day of Christmas campaign.
4. Advertise Free Holiday Shipping
According to Statistica, approximately 48% add an item to their online cart of they see that these items qualify for free shipping. So why not offer your customers, free holiday shipping? You can do so by charging slightly above the original order price.
Another way you can do this is to link products for free shipping. In other words, your customer can qualify for free shipping of they will add a product to their purchase list. You can also create reward programs, by giving your customers promo codes for free shipping. A reward program can also increase the ROI of your company, by gearing your customers for a consecutive purchase.
5. Collaborate with Micro-Influencers
Have you ever heard of influencer marketing? These days, the fastest ways where you can gain followers in your specific niche is to team up with a micro-influencer. Come up with a social media strategy and team up with a micro-influencer to help spread the word.
What's excellent about influencer marketing campaigns is that they aren't too complicated. You can do a simple contest, giveaway, promotions, and still come up with exceptional results.
6. Use Holiday Hashtags>
#Christmas2018 #TisTheSeason #HolidayCountdown, the long list of creative holiday hashtags go on. Without a doubt, these hashtags are excellent during the holidays, and you can use them to your advantage to help drive in sales. So, ensure that you tag your Twitter, Facebook and Instagram posts properly to ensure that your brand and business appears on these social media searches throughout the holidays. To make it even more compelling, you use of visual media such as videos and other engaging content that make you stand out during the search results.
7. Take Advantage of Chatbots
During the holidays, it's relatively easy to be overwhelmed if you have a swarm of customers. So why not take advantage of chatbots? Chatbots are big especially when it comes to amplifying your marketing strategy. It is even predicted that in 2020, the majority of customer-business interactions will happen even without a human intermediary.
If you're not convinced yet, a content that's delivered via Facebook messenger has a 98 percent open rate. The CTR or click-through rate is 12 times higher than an average email. There is no doubt that Messenger has wholly taken over email. So if you want to promote your holiday sales, why not implement a chatbot on your social media page?
In Summary
Without a doubt, the holidays are a fantastic time of the year where you can surprise and make your customers happy, generating more reach, and increasing the visibility of your brand.
Luckily, modern-day marketing doesn't have to be challenging anymore. There are plenty of unique creative ways to reach out to potential prospects. If you don't have a holiday social media marketing plan yet, then it's time to put these strategies into place to help improve your performance in this glorious time of the year. One last thing, get your holiday campaigns started as soon as you can to maximize your overall results.