Another year has started, which means another challenge and opportunity where you can improve your website traffic and grow your followers!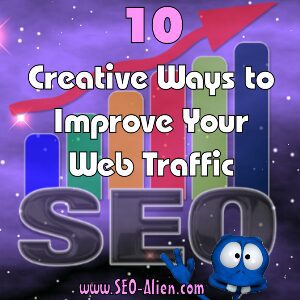 Yes, that's possible!
But,… before you get too excited about the potential of building a more solid fan base this year, it's vital that you first examine what you did in 2016 and which of those specific strategies outperformed the others.
By understanding your site strengths and weaknesses, you also get to recreate a content approach that will improve your website traffic in no time.
Don't get me wrong. There isn't any shortcut for succeeding in any marketing approach. Unless maybe if your site is personally recommended by bigger names in the industry say, Amazon.
Taking this aside, here are ways on how you could work on improving site traffic from where you are and what you have. Have a quick look.
10 Creative Ways You Can Improve Your Website Traffic
Use social media. And use it well. Don't just randomly create accounts across different social media platforms without knowing which specific ones is often visited by your prospect customers.
Nail it down with your headlines. The rule of thumb is simple. You can't get people to read and skim through your content if your title sucks.
Extend your content reach through guest posting. If you want to get attention from readers across the web, then go out there and write for someone else. Just make sure you are guest posting on a site with good traffic too.
And while you're finding potential sites to guest blog, why not allow others to write for you too? Skilled bloggers from all around the web are looking for opportunities to publicize their work. Help them do that. In turn, your site gets the attention that their quality works gather.
Link internally and externally. Link to previous works you've published and don't forget to link to authority sites every time you mention them for reference.
Talk to authority personnel in your niche. Get an interview if you can. Prominent people have their own fan base. Tap their help, get a statement or a full interview and viewers are guaranteed.
Spend time in creating a responsive website. It's about the layout and compatibility. Does your site look good when accessed via mobile? It should be! Otherwise, potential followers on-the-go may lose interest.
Site speed matters. A lot. It's a simple and hard fact. If your site loads slowly, people leave.
Engage with the community. Comment on other people's works. You can't just keep on receiving good feedback, can you? It's important to appreciate other people's works too! Drop some nice words on the comment!
Start using videos. In fact, you can convert existing ones. Videos are the real deal this 2017 and for the years to come. It's a fact. Studies support it. So better get on with it.
For those who think a full recalibration of their site is in place, then perhaps hiring third parties like web design Philippines can help you with the technicalities.
Plan your content, delegate work and share them online and you can improve your website traffic!