There are approximately 1 billion monthly active users on Instagram every month.
It's the second most popular social media network after Facebook, offering brands and businesses a popular platform to build customer relationship and boost brand awareness.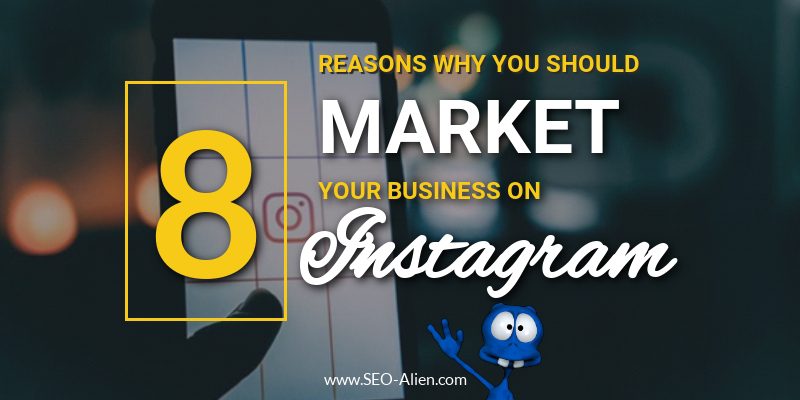 Ever since its inception, Instagram has proven itself to be a useful marketing tool for companies that want to improve their brand presence and visibility of their products. Creating a strong following on Instagram should be a priority, no matter how big or small or business is.
In this post, we'll talk about the eight reasons why you should promote your business on Instagram:
1. Learning Instagram Advertising is Easy
When you spend numerous hours learning how Instagram marketing works, you'll already gain sufficient knowledge on how you can jumpstart your Instagram campaign.
Advertising on the platform is easy as you don't need a huge budget to get started. According to AdEspresso's research, the average cost-per-click on Instagram is only $0.80.
Also, setting up your Instagram Business Account is a breeze. You can have one set up and publish your first campaign in just an hour. That's more convenient as compared to other pay-per-click advertising campaigns. If you need a little help, there are trusted Instagram advertising agencies in the market that can help you achieve the results you want.
2. It's a Visual Platform
One thing that makes Instagram stand out from other social media channels is that it's photo-centric. Not like other social media platforms, Instagram is highly visual ‒ composing mostly of photos and videos that are often accompanied by text.
You can use this to your advantage since most people respond better with visuals. Users tend to remember a content more if they see it, rather than just hear or read about it.
Moreover, videos outperform images when it comes to overall results and engagement.
Instagram allows your followers to remember your content better, engage with you, and bring them one step close to making a purchase.
3. The Application is Innovating
If you're always on the look-out for Instagram's latest updates, you'll know that the platform is updated regularly. All of it, of course, is to provide a better user experience as well as making advertising even more efficient.
From photo filters, Instagram story formats, brand new campaign objectives, Instagram has a lot to offer to its users!
So, that fact that Instagram is always innovating only means that:
It's adding and updating features to make marketers have better engagement with their followers.
Most users grew to love the platform.
It's always bringing in new users on board most of the time.
4. It is Easy to Collaborate with Influencers
In social media, influencers are online celebrities that will often promote a brand or product, and taking it to the mainstream. These people usually have access to specific demographic that you wouldn't normally reach.
Working with an influencer that's dependable helps boost your company's sales and ROI to a whole new level. A well-known influencer can help spread the word about your brand, products, and services with their massive following in just a few posts.
5. Hashtags On Instagram Works Like Magic
Again, with approximately a billion users on it, Instagram offers enormous potential in finding target audiences. When you post on the platform, hashtags are an excellent way to put your content out there and be seen by the right people.
You can even start your unique hashtags and encourage your followers to join. Ensure that you're using only relevant hashtags though, similar to what your target audience is looking for.
Moreover, you can also craft targeted ads to reach more prospects, if you're willing to set aside a specific budget. Just remember not to overuse hashtags though, and avoid the ones that are 'banned' as these can hurt your overall reach.
6. Your Competitors Are Probably On Instagram Too
So you're using Instagram as your marketing channel. The thing is, you're competitors are also on it, too. The good news is that you can use the platform to your advantage to track your competitors' activities and see how well they interact with their followers.
What content do they usually post? How often and what are the specific times of the day do they publish?
What do they do to engage their followers? Do they host contest and giveaways? Do they offer limited-time deals and discounts?
By asking yourself these questions, you'll be able to know the best practices in the industry, as you define your strategy.
7. People Spend a Lot of Time on Instagram
As we've mentioned previously, Instagram is the second most popular social media site next to Facebook. That means you'll have a better chance of getting yourself in front of your target audience. That alone is something that you shouldn't ignore.
8. People and Marketers Love Instagram
According to the stats by Pew Research, approximately 51% of Instagram users access to the platform daily, with 35% saying that they check it several times a day.
Also, here are a couple of Instagram advertising stats that you should know about:
Without a doubt, these statistics show that Instagram is an incredibly engaging social media platform. It helps you gain brand visibility as well as engage with new users.
Over to You
So there you have it! Instagram is one of the essential social media channels around. If you haven't jumped on the bandwagon yet, then you could be missing out on something big.
Whether you own a big company, a small business, or looking for a way to market your personal brand, integrating Instagram in your marketing strategy is crucial.
About the Author: Bryan Mixon
Bryan is the owner of AmazeLaw.com, the website building for solo and small firm attorneys. Byran has been building websites since 1999 and has spent his last four years helping companies like HubSpot, Mill33, and LivingSocial. Bryan knows first hand how difficult it can be for small business owners to get their digital marketing off the ground, so he built AmazeLaw as a super-simple place for solo attorneys to build their sites, collect leads and get on with their days of doing lawyerly things.