The name of your company is the first thing people will know about it. Naturally, you are going to want to choose from evocative names for your business that represents what your company is actually all about.
Brainstorming creative business name ideas is one of the easiest ways you can set yourself apart from the competition.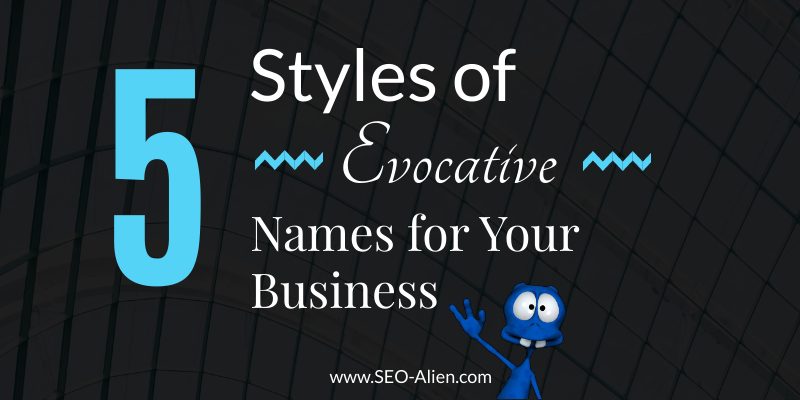 Recognizing the importance of a good name is easy. Finding the best company name ideas, on the other hand, is a much more difficult process. Keeping these things in mind, here are five of the most effective—and most evocative—styles of catchy business names.
Styles of Catchy, Evocative Names for Your Business
1. Names that are completely made up
Making up a new word for the sake of naming your business can sometimes be risky—but when done correctly, it can also be extremely beneficial. If the word doesn't already exist in the English language, then that means every time it is used, it will be associated with your company.
When generating original brand name ideas, you are going to want to make sure they are simple and pronounceable. Boeing, for example, is a word that was completely made up but also fairly easy to say.
2. Names that are abbreviations
In an era that is characterized by texting and online communications, the use of abbreviations is more popular than ever before. The best thing about abbreviations is that when they are not too long, they are usually pretty easy to remember.
Using an abbreviation for your company's name can help you compromise between having a short name and having a detailed name. American Telephone & Telegraph Incorporated is a bit of mouthful—AT&T, on the other hand, is quite a bit easier.
3. Names that describe your business
Another popular naming strategy is using a name that describes exactly what your company does. A name such as Discount Car Insurance can be uniquely beneficial for multiple reasons. Not only is it a name that is simple and memorable, it is also a name that people who haven't even heard of your business are likely to type into Google on their own.
4. Names that utilize hybrid words (portmanteaus)
A portmanteau, such as brunch, is a word that is derived by combining two different words (breakfast and lunch). If you are looking for catchy business names, these hybrid words are an excellent option.
5. Names that invoke the 'big picture'
One of the most difficult things about starting a business is establishing legitimacy. Instead of describing what your business is today, you may be able to improve your brand image by describing what you hope to be tomorrow.
Using words like national, international, and global can make it seem like your business is already well established even if you only have a single location. In essence, these 'big picture' names are something your business can 'grow into' over time.
Conclusion
These are just a few of the styles of catchy business names you might want to think about. The naming style that is ultimately right for you will depend on your organization's goals and preferences.

About the Author: Grant Polachek
Grant is the Director of Marketing at Squadhelp.com, helping entrepreneurs and marketers name their businesses (quickly and easily), create strong brands, and grow faster through a disruptive crowdsourcing process that connect them with the most creative people across the globe. His book on How to name a business is available to SEO-Alien readers for free.