You can make the most out of Instagram analytics market your business successfully. Monitor trends, progress, and understand your targeted customers using the right tools.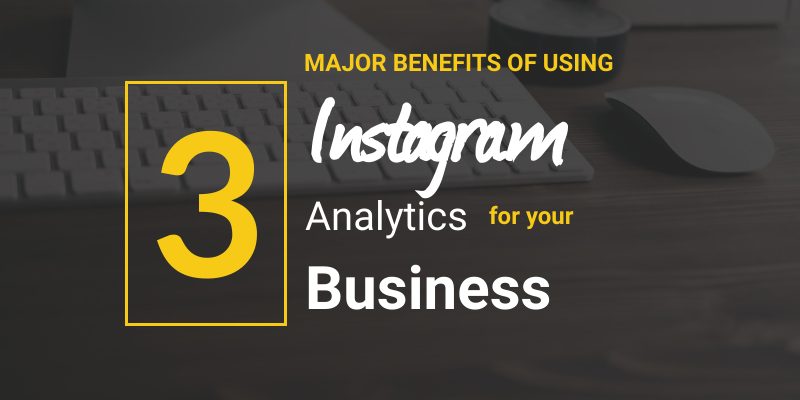 Using analytics, you can collate valuable data to figure out which of the hashtags are used frequently, which are working, which images drive maximum engagement and the popular time to post your content.
These parameters are essential and help you understand about the things you are good at, and where you need to improve. Use Instagram analytics to compare the results of your competitors to that your business. You will find both free and premium Instagram tools that you can leverage to realize your business goals.
No matter whether you use free or paid tools, here are the three major benefits of using Instagram analytics for your business:
1. Know your audience
Instagram analytics will help break own the factors based on demographics. You can use data related to age, sex, location, language, income, and other metrics to strategize further. The more detailed information you get and rightly interpret them, the better you can understand your targeted customers.
You will come to learn about your followers' interests, likes, dislikes, buying habits, inclination towards specific products, and things like that. It will help you to tailor and customize content for the audience you are targeting to drive sales. It will take some of your time and effort. Therefore, there is no need to rush. Understand the data you have and interpret it correctly and then take action. It will help you gain real Instagram likes and fan following.
2. Perform to beat your competitors in business
With Instagram analytics, you have access to valuable data. You know which posts your followers like the most, the best time to post, and things like that. You can use such information to perform the best and beat your competitors in business. When you know at which times your visitors are active on Instagram, you can post your content at such times.
If you discover that 8 pm on Monday and 6 pm on Wednesday is the best time to post, you start posting your photos at these times for maximum engagement. It will help you to reach out to more prospects who may transform into your loyal customers. Optimize your content that is liked by your audience the most and run a campaign for your benefit.
3. Save your resources and valuable time
When you fail to understand something, you spend much of your productive time to resolve the issue. Then, you cannot afford to do so often when you have a business to manage. Fortunately, you have Instagram analytics to offer useful insights to stay away from such complications. Use the data to figure out which of your content is working and which content needs modification for better engagement. Analytics help you to use your efforts smartly, and accordingly, you can allocate time and resources as effectively as possible to market your brand.
Conclusion
Use these tips to use Instagram analytics smartly and promote your business. You will see a positive outcome and succeed in your marketing efforts
About the Author: Walter Moore
Walter is a notable management consultant and digital marketing expert. He is quite experienced in the field of web marketing as well as website designing. You can visit Gramista and learn how to build more follower presence.