Google Shopping Ads are amazing for driving traffic online. Though they do require some effort, to begin with, Google automates most of the other work involved in creating and presenting ads to the right users.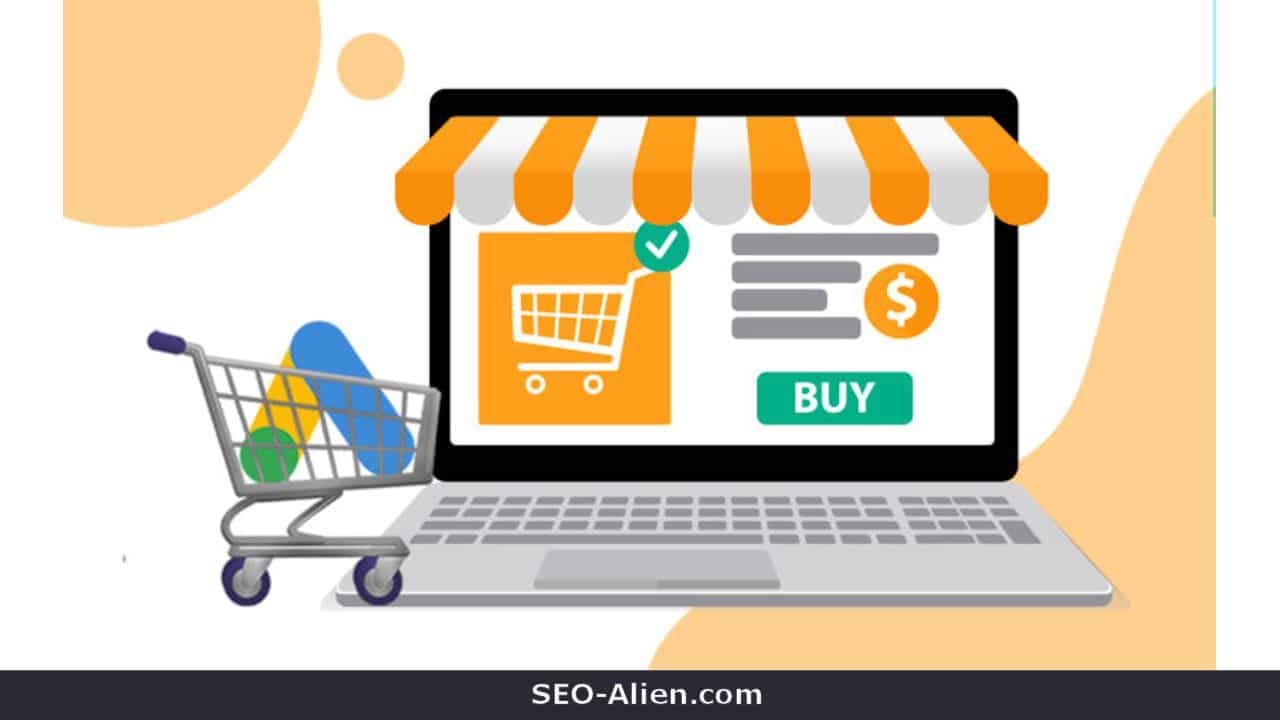 But this automation has left many advertisers to feel like they have lost control over the products that are shown. But the following information allows you to take back some control over the ads of your products.
What Are Google Shopping ads?
Google Shopping is a comparison shopping engine that allows people to advertise their products, for those who search for those products, in an appealing way. Therefore, Google will show relevant shopping ads when someone searches for a product that you happen to sell. Moreover, if the searcher clicks on the product ad, then Google will take her directly to the product page.
Every Google Shopping ad will include the product title, an image of the product, the price, the name of the retailer, and, sometimes, other retailer-specific information like reviews or shopping costs.
Why Should You Use Google Shopping Ads?
Most people start looking for their products on Google. So, advertising on Google will allow you to be present at the center of where your potential customers are.
The search results are text-based Search ads where you will have to write the ad copy and add the required keywords manually. But for Shopping Ads, Google does a lot of that work for you. The algorithms will automatically take the relevant data from your store, create ads for your products, and match them with the relevant queries people search.
Though to set up everything, Shopping Ads can take a lot of time initially, they require very little effort afterward. This is one of the biggest reasons why Google Shopping is recommended. When compared to Search Ads, there is very little that can go wrong.
How Does Google Shopping Work?
Google Shopping Ads work very differently when compared to regular Search Ads. To begin with, a special file called a product feed is processed by Google's algorithms and it contains all the product data of a store including things like description, images, titles, prices, etc. Google then uses this data to create actual ads and match your products with relevant search queries.
This will allow people to see Shopping Ads that are relevant to their requirements, showing an image of the required product along with additional information such as price, reviews, etc. If the searcher likes the product, they can simply click on it which will directly take them to the product's website.
In return, Google charges the retailer for the click.
Top 10 Google Shopping Campaign strategies
1. Optimize Your Product Titles
One of the best places where you could start seeing the biggest results in optimization is your product titles of the product feed.
Experiments have shown that different optimizations to the product feed show very little or no shift in performance, except changes to the titles of the product feed which 10x'd the volume of the traffic received.
This shows that a decent amount of effort and time must be spent on product titles to make it as relevant as possible in accordance with how the users are searching. You could look at search query reports to see the keywords the searchers are using.
It is also important to look for the order of the words and the search terms driving the most revenue.
2. Optimize Your Product Feed Descriptions & Categories
A few tests have shown that irrelevant product descriptions and changing categories have very little or no effects on performance. However, this does not mean that you should not spend less time on these two parts of the product feed. But, if you do not have enough time to manage the shopping campaigns then it is definitely better to spend more time on optimizing product titles and images.
3. Optimizing Your Product Images
When it comes to standing out from your competitors, the product images you put forth are very important. For example, a survey conducted with 40 people was asked to click on the ad they liked and mention why they liked it. The images had the following 3 characteristics:
All the ads were fashion-related products
In total, there were 5 images, 2 were the product by itself and the other 3 were of people wearing the fashion product.
All the products had the same price
As a result, 82% of the total people clicked on the shopping ad first if the image was of someone wearing the fashion product.
Moreover, if the image does not sell your product, then it might not attract any clicks at all! A few other things to keep in mind when choosing the right image for the product are:
Make sure the image you put forward clearly represents the product
High-quality images have better results. Bad quality images are never appealing to users
Test different types of product images. This can attract a few more clicks.
4. Use Google Shopping Ad Extensions
Ad extensions are popular for text ads. But the entire game is taken to a whole new level when it comes to Google shopping ads. There are usually two types of Google shopping ad extensions:
1. Merchant Centre Programs
This includes Merchant Promotions, Google Customer Review, and Product Ratings.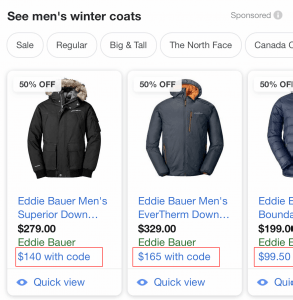 2. Automated Extensions
Shipping and/or Tax information displayed in a PLA (Product Listing Ads), These are very effective to drive CTR and Conversion Rates.
The Automated extensions are based on what information you give in the Merchant Centre. This can be seen in ads where additional texts appear, usually at the bottom, such as '90-day returns' or 'free shipping', and these are default templates that can be used or customized when needed.
These texts make the ad more unique and might be the reason for many clicks. There are many other ad extensions that can help optimize the clicks.
Merchant Promotions can help to include more attractive messages like 'Special Offer', which when clicked, will display the unique offer.
5. Use Products Rating & Review
A study has shown that about 88% of the people shopping online trust the brand or the product based on the review. Listing a product without rating or review will look incomplete and less appealing when displayed beside products with ratings.
In order to qualify for Product Ratings, the products you are listing must have enough reviews. When the numbers of reviews are high, the more trust the customer will have on the rating.
Low ratings and negative reviews to a certain level will also help make many people trust the product. This is because customers would want the reviews to be genuine and though a 5-star rating will not hurt the sales, the optimum rating to get higher sales will be around 4.7.
Including 'seller ratings' is also beneficial. This will increase the quality and effectiveness of the product listing.
6. Implement a Negative Keywords strategy
Negative keywords play a very important role in making the products come up with relevant searches. Since you cannot add keywords in Google shopping, retailers will have to completely rely on Google to look for the most relevant keywords for their products.
Even if the product has exceptional descriptions and titles, imperfections in Google's algorithms can make a few ads show up for entirely different search terms and this is problematic for two reasons:
If your product ads are not being clicked, because these show up for irrelevant searches, Google will drop the quality score and will not show your ads very frequently.
If your ad shows up for irrelevant search terms and the searcher click of your ads, you would end up paying for it.
Adding negative keywords can help to resolve these problems and make the ads not show up for irrelevant search terms. Google will not show your ads for search terms that contain negative keywords.
This will save a large amount of money by getting rid of all the unnecessary clicks. This will also increase the quality score as the CTR of your product's ads will increase.
7. Adjust Bids By Device Performance
You will be able to adjust your device bids, at the campaign or Ad group level, based on your performance. Tracking your ROAS is recommended when optimizing the account as this helps you optimize what brings in the biggest return for the business.
8. by Geo Location
Each customer location will normally have a different conversion rate. Therefore, you can optimize this by modifying bids based on the location of the users. The goal is to enhance the visibility of the ads to people that make the most money for the businesses and decrease the visibility for people who bring in no return for businesses. However, this can only be done at the campaign level.
To check the performance by Geo, you can simply go to your locations tab in the campaign view and this will show you the performance based on the target locations. You could also go to the Geographic report and click 'Use Location Report'.
You can then look for individual locations to view the next level, and start to see the performance in more granular detail.
9. Increase bids For High-Performance Products
When the campaigns are structured, you can begin to increase the visibility of products that are performing really well.
A few ways to do this are:
Bid adjustments by Device
Increasing bids
However, you must keep a close eye on the adjustments you make.
10. Create a Remarketing Strategy
Remarketing is a practice of targeting previous visitors to a store and re-delivering ads to those users. No marketer should miss out on this great strategy. For marketing, a Tracking or Remarketing Code must be added to the website's code. Through Remarketing, the user's behavior can be tracked and then be used to create more audiences.
You can use criteria, such as previous shoppers or purchases that were removed from the cart, to easily segment the targeted groups. When it comes to Google Shopping, the following two types of Remarketing Strategies are important:
a. Dynamic Remarketing
You can use the Display Ad campaign on Google to deliver ads to the previous visitors on the websites they surf.
When Dynamic Remarketing is enabled, Google uses the information from the Merchant Centre and creates ads customized according to the products that users have previously viewed.
b. Remarketing Lists for Search/Shopping Ads
Remarketing lists are not an actual campaign and can be produced more easily. Instead of making an actual campaign, advertisers can use Google Analytics or Google Ads to attach the audiences they build to the campaign. When a user searches for a product on Google, ads are delivered to them according to the products they viewed on the website.
Conclusion
Shopping ads have proven to be a major asset for people looking to acquire returning and unique customers. These ads are extremely targeted and incredibly cost-effective. Though a lot of efforts are required to begin with and manage overtime, the investment will surely pay off!
Additional resources

About the Author: Salil Panikkaveettil
Salil is the Co-Founder and CEO of AdNabu. AdNabu helps improve sales in Google Ads for eCommerce companies. If you are running search, shopping or display campaigns in Google Ads, Their software will be able to increase your sales. Sign up today for a 14-day free trial from here. You can connect with him on Twitter or Linkedin.