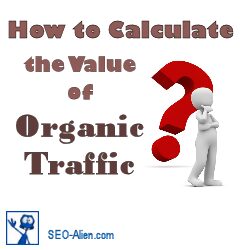 So how do you calculate the value of organic Search Engine traffic? Assessing the value of organic traffic may seem like a daunting task. However, if you know the value of organic keywords, the process won't be so difficult as you initially thought despite being organic.
Organic traffic refers to the traffic that results from unpaid search activities. Here's how you can calculate your organic traffic's value through determining your organic keyword's value.
1) Determine what a quality keyword means
Fundamentally, you must realize that keywords may or may not necessarily lead to conversions. The choice of keywords is purposive wherein it should depend on the goal of your website or blog. Examples of goals are bringing in more traffic, bringing in more qualified leads, getting people to subscribe, getting people to sign in, etc.
A high-quality keyword is the one that can complete such a goal. This will not happen unless the keyword you chose is relevant to the content of the page and is integrated as organically as possible to the content. Not to mention, the page should be properly optimized for the target keyword. Importantly, the chosen keyword must match not just the language that the user searches for, but also the intention behind the inquiry.
2) Find the relevant keywords
There are two criteria albeit being informal. First, the keyword must be relevant to your business and second, the keyword should be relevant to your audience. For instance, if you are offering vacation home rental services, you will stay away from keywords that basically aims to sell vacation homes. You'd also target those people who are looking for vacation homes that they can rent.
If you have no idea how to proceed, you might as well head on to Google Keyword Planner. The tool can help you in discovering new keyword opportunities, displaying hundreds to thousands of relevant keywords. Also, there are basic rules when optimizing a page for a particular keyword. Make sure that you are targeting two to three keywords in one page, and these keywords should be clearly related to one another.
3) Calculate the traffic opportunity for each keyword
Now, you have keyword suggestions on the keyword 'vacation home rentals,' for instance. You can actually identify the traffic potential of your chosen keywords.
This is where the tool comes handy because it also displays information on search volume. Thus, you can easily determine the numbers of users who might be clicking on your landing page provided that the landing page is ranking for that keyword.
SERPs, or search engine results pages, show up to ten results. The average traffic share declines as you scroll down the page. Based on the data provided by Chitika, the:
#1 position has 32.5% traffic share
#2 with 17.6%
#3 with 11.4%.
The rest are – #4 (8.1%), #5 (6.1%), #6 (4.4%), #7 (3.5%), #8 (3.1%), #9 (2.6%), and #10 (2.4%).
Thus, the keyword 'vacation home rentals' has a monthly average volume of 27,100. If it appears #1 in Google, you can expect average monthly clicks of around 8,807.
Evidently, there's a pre-condition. Your pages should already be appearing in the SERP. If these aren't on the results pages yet, perhaps, you should work on optimizing the pages first so Google will display the landing pages for all relevant searches.
Afterward, you can easily determine how much organic traffic your page is actually receiving with the steps discussed above.
---