"Good SEO work only gets better over time. It is only search engine tricks that need to keep changing when the ranking algorithms change." –Jill Whalen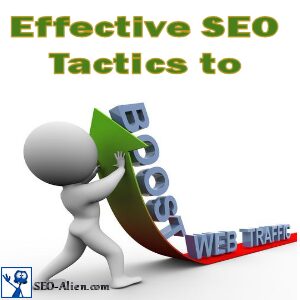 Without a doubt, search engine optimization (SEO for brevity) has been a tried and tested method that funnels traffic towards your websites. Suffice to say; SEO has been around quite long enough for people to comprehend the type of prowess it has and to conclude that indeed it is an effective acquisition channel.
However, despite all the laudable efficacy that is attributed to SEO, it remains to be a hit or miss method and skill. But people that succeed with SEO can all universally agree on doing two things very well. One is identifying the SEO techniques that do get them results and then putting one hundred percent of their resources into executing and scaling techniques.
Now that we have identified two things that do succeed when it comes to SEO, the next would probably to identify some cardinal methods that generate traffic for your website.
What are these SEO strategies that do work? Well, here are 4 Four Effective SEO Tactics that would assist you in increasing your organic (SEO traffic).
1.) Internal Linking
Though external back links have been known to be exalted in the world of SEO and are relatively considered better than internal back links, this does not mean that you should disregard and ignore internal links altogether. These internal links would assist search engines in navigating your site. Without them, search engines would have a difficult time figuring out where they should go next. In essence, this translates to lost traffic considering that relevant pages would be missed by search engines.
2.) Creating Incredible Content that Earns Links
Content is king is a rudimentary concept when it comes to SEO. It has been the common knowledge of SEO pundits and newbies alike as inbound SEO links are still the biggest influence for search engines. This is highly unlikely to change.
Additionally, earning links from high-quality and relevant websites would aid you not only with referral traffic but brand exposure as well. Crafting content which people are more receptive to share is undoubtedly the best way to get links.
3.) Optimize For Other Search Engines
Sure, Google remains to be uncontested when it comes to being the most widely used and best search engine, but that does not mean it is the only search engine in existence.
Some SEO specialists and link builders fail to optimize for other search engines and solely focus on Google, which is a fatal mistake. In fact, search engines such as Yahoo, Bing, and DuckDuckGo have become default search engines for other browsers. Considering this to be the case, it only makes natural sense to optimize for those search engines as well.
4.) Mobile SEO
As phones get more digitally and technologically advanced, more and more people are accessing the pages of the Internet through their mobile phones or tablets.
Undoubtedly, mobile is become more popular each year which means every website should have a mobile marketing strategy for this year and beyond.
Mobile should be a crucial concept to be integrated into your SEO strategy considering the trend of internet and web page accessing trends nowadays. Be cautious with configuration errors though as you do not want to lose valuable traffic.