SEO
"Both SEO professionals and companies need to have patience while implementing the best SEO practices."
Most CMO's get a little hassled when they think or hear about SEO. Yes, SEO is essential for website visibility and better online ranks. But it is not the easiest online marketing tactics available.
​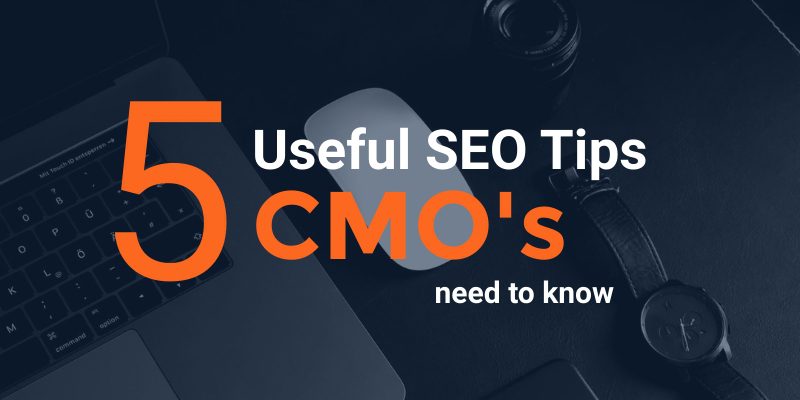 It is difficult to plan the best SEO strategy and execute the same. Additionally, SEO takes time to show its results. So, both SEO professionals and companies need to have patience while implementing the best SEO practices.
SEO is an important aspect of the total online marketing strategy! It is one that business owners and start-up entrepreneurs need to execute with high efficiency.  An SEO campaign can either make or break your total online marketing strategy. Hence, you need to select the best steps under the guidance of an SEO agency or professional. For more information, you can get connected to SEO Miami Kotton.
There are times when CMO's need guidance of the SEO initiatives. If you resonate with the same, take reference from the five SEO tips bellow:
Know that SEO is a long-term practice
People don't approach SEO with the correct approach. They feel SEO is instant and short-term work. The truth is SEO will take time to show its results. It's a long-term commitment! Even if you have a high capital to kick-start your SEO campaign, still you will need to wait a while to see the outcome. From increased online visibility to organic traffic, it takes time to generate.
Hence, CMO's need to invest time and patience along with their capital! Only then can you see that your entire online effort culminates into something fruitful. All the paid strategies are highly scalable. It includes Google AdWords and Facebook ads. All these strategies will help you generate your revenue stream and make you enjoy a favorable ROI (Return on Investment). But this too will take some time.
SEO should get embedded with every online marketing elements
SEO is an important component of digital marketing. So when you are mulling over your marketing strategies, start to outline your SEO goals as well. It enables you to magnify your SEO with minimal effort. You need to have your creative thinking in place. One of the most powerful ways to touch base with your customers is email marketing. Through email marketing, a brand can share their marketing message and also relevant details about its products and services. Furthermore, email marketing also helps in providing links to important downloadable materials, like an eBook or a PDF. Brands also make use of email marketing to give details about offer and discounts on certain products.
Social media marketing has a similar effect. Through relevant social posts and paid content promotion, your brand gets the required mileage. The brand finds out ways to influence their SEO and other online marketing elements that build a cohesive foundation, which you can develop further with the best strategies.
Concentrate on SEO metrics that are essential
One of the greatest SEO errors that most brands commit is concentrating on metrics that don't yield good results. For instance, a keyword can record a 1,20,000 search volume every month. However, it might be contributing to only ten conversions every month. On the other hand, a keyword with a search volume of 600 every month, might lead to 20 conversions.
Hence, it's crucial to get your overall online strategy well etched out. It will help you to engineer it the way you want to. When you have the conversion details, you can concentrate on those metrics which can result in higher revenue. It will help you to erase out pointless SEO metrics. According to SEO experts like Danny Sullivan, SEO is not about trying to get keywords in Google. Rather, it's arriving at an understanding of the way people look out for data. It is about finding a way to place the information to them.
Don't try the mindless game as it will boomerang
Are you looking for short cuts in SEO? Don't! As there are no shortcuts at all! And in an attempt to look for short-cuts you might end up practicing something unethical. It can land you into greater trouble. There are Blackhat SEO tactics which entrepreneurs get tempted at times, to gain increased visibility within a lesser period. But this technique is of no good ultimately. Your website might receive a penalty and Google might take down your site. It will lead to business, reputation and revenue loss, which is very hard to recover.
Treat your SEO plan like an investment. The plan will mature and get refined with time. So, devote all the time your SEO strategy requires to show the best results. Also, stay updated with Google algorithms. Align your marketing strategy, SEO plan with the changing Google updates.
Know that SEO will eventually boost your online marketing initiatives
SEO can hugely impact your online marketing! Brands like Wal-Mart and Amazon will make you realize the power of SEO. Search for any customer product in Wal-Mart, Amazon or Google, and it will be on the top result. The idea is to imitate this kind of social dominance on a niche or local level. It is essential for CMO's to understand the growth potential of organic traffic due to SEO. Hence, plan your SEO with a long-run vision than a short-term vision. It's perfect to have a small business set up and plan SEO strategies. The idea is to think big and permanent. Only then will SEO multiply the organic search results and traffic.
Not many people today have the time to understand the potential and scope of SEO. But if CMO's devote that time and attention, SEO will work in their favor all the time. It is essential for CMO's to spend adequate time to plan and create a detailed SEO route map. The plan should include the long-term objectives and possible outcomes as well. That way you will have a standard and benchmark to work for.
SEO is never the same! It's constantly changing. But regardless of any and many changes, the tips mentioned above will be true for all times.