Powering more than 34% of the web, WordPress is by far the best and most popular CMS for creating everything from simple blogs and websites to complex portals and online stores.
While it is already pretty friendly to Search Engines straight out of the box, there are still several things you need to do to get the most out of your WordPress SEO efforts.
Do you have a visually appealing, feature-rich WordPress site but not getting enough organic traffic? Unfortunately, search engines don't care about how beautiful your WordPress site is or how much effort you have put into it to make it visually stunning. What they care about the most is whether or not the website is well-optimized for them.
Hence, if you want to see your WordPress blog/website on the top of search engines, you must try these 15 tried-and-tested, actionable WordPress SEO tips and techniques that will not only skyrocket your organic traffic through improved rankings but will also help you dominate your competition with increased traffic.
Let's get started!
1. Pick an SEO-Friendly WordPress Theme 
Your theme is one of the most important aspects in deciding whether or not your WordPress blog or site will rank higher in search engine result pages (SERPs). Hence, when picking a WordPress theme, you should always opt for the one that is built with SEO in mind, instead of the one that looks aesthetically pleasing. A few traits that distinguish an SEO-friendly WordPress theme from an ordinary one are:
An ultra-clean, W3C-valid code
A responsive design to ensure the theme looks and functions well across all devices and screen sizes.
Lightning-fast page load speed to ensure the website would load at the speed of light.
Open graph meta tag integration to improve social media sharing
Appropriate and adequate use of meta title tags and heading tags
Proper use of the canonical URL meta tag, if required
2. Install a WordPress SEO Plugin
While WordPress already comes packed with several outstanding SEO features and capabilities, it is always recommended that you install an SEO plugin to take your on-page SEO efforts to the next level!
In terms of popularity and usage, Yoast SEO and All in One SEO Pack are two of the best WordPress SEO plugins that you can use to control how Google sees your website. Although you're free to use any one of them, it is advisable that you use the Yoast SEO plugin as it allows you to write better content with a multitude of on-page SEO features, including but not limited to:
SEO Analysis
Readability Analysis
Snippet Preview
Focus Keyword Selection
A state-of-the-art Schema Implementation
Automatic XML Sitemaps Generation
Enable/Disable Breadcrumbs
3. Install an SSL Certificate 
Ever since Google started considering HTTPS as a major ranking factor and took the further step of showing "Not Secure" warning for non-HTTPS websites in Google Chrome, webmasters are migrating their websites from HTTP to HTTPs to avoid any potential drop in rankings.In fact, an analysis of 1 million URLs done by Matthew Barby, an award-winning digital marketing consultant proves that 33% of all pages that rank either #1, #2 or #3 in Google use HTTPS. See the graphic below!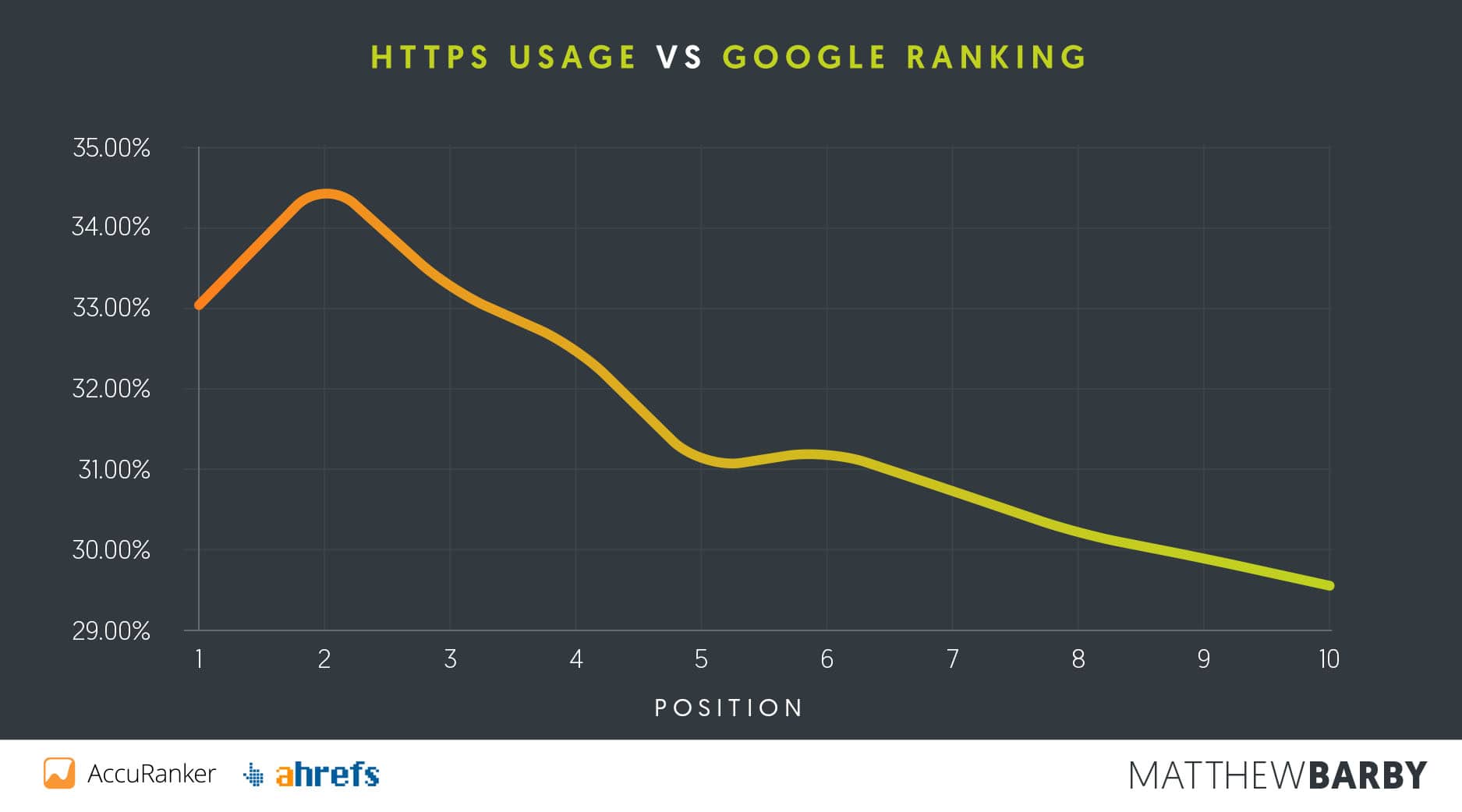 So if you've not migrated your WordPress site to HTTPs yet, it's time to grab this small yet crucial SEO advantage.
4. Perform Keyword Research
If you want to beat your rivals and rank high in your niche, then you must do proper keyword research for your WordPress site. Doing strategic keyword research empowers you to:
Create content users are actually searching for
Have a better understanding of the needs of your target audience
Track the success of published content
Drive a considerable volume of organic traffic to your WordPress site
There are many great tools out there to help you with keyword research. A couple of them you can try are:
Google AdWords Keyword Planner
Moz Keyword Explorer
AnswerThePublic
KWFinder
SEMrush
Ahrefs
5. Use SEO-friendly Permalink Structure
WordPress by default creates weird permalinks that are not search engine friendly. The default permalink structure currently looks something like:
Since search engines, including Google, like URLs containing post title and/or target keyword, you need to navigate to Settings >> Permalinks in your Dashboard and change the default permalink settings to something SEO friendly, such as shown below:
Although WordPress offers you several options to change your permalinks, you are advised to change the permalink structure to "Post name" as it is the cleanest and most search engine friendly URL structure.
6. Create High-quality, Engaging, and Evergreen Content 
The old proverb "Content is King" is still alive and will always be in the future. Google loves high quality, user-engaging content and so do other search engines like Bing and Yahoo!
No matter if you're running a personal blog or a corporate website, you have to consistently produce high-quality content to rank higher in the search engines. Remember, high-quality content is:
Unique
Helpful
Informative
Valuable
Actionable
Shareable
Timeless in nature 
To ensure your content is evergreen and relevant to readers, it is recommended that you update it regularly.
7. Write Long-Form Content Whenever Possible
If you look at websites holding the top positions in search engines, you'll find most of them offer high-quality, long-form content. In fact, a piece containing 2,000 words or more has become a standard nowadays.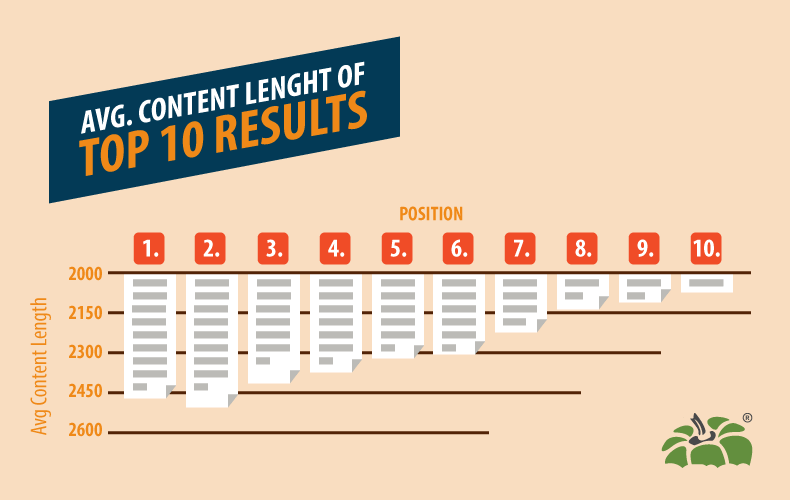 So if possible, try to write high-quality, detailed posts as they tend to get more backlinks and rank better in SERPs. When writing lengthy posts, make sure to use a Table of Contents to make it easy for users to instantly navigate to specific sections of a blog post.
8. Follow the Best On-Page SEO Practices 
SEO can be divided into two main categories: On-page and Off-page. Where On-page SEO involves optimizing different aspects of a site, on the other hand, off-page SEO deals with Backlinks. Ensuring the flawless implementation of these on-page techniques is the first step to optimize your site for search engines: 
Optimize Your Meta Titles, Descriptions, and Header Tags.
Use SEO-friendly, short URLs.
Target Long-tail Keywords.
Have a Focus Keyword for every page/post.
Apply No-follow to Affiliate Links.
Find and Fix Broken Links Regularly.
Incorporate relevant internal and external links in your content.
Try to put the most important keywords in the first or second paragraph.
Ensure all your images have Alt text (alternative text) with relevant keywords as well as the image file names descriptive phrases related to your content.
9. Speed Up Your WordPress Site
While speed has always been crucial from the user experience perspective, Google also recently announced that it affects your search engine rankings. Fortunately, fixing a slow loading site isn't that difficult. Mentioned below are a couple of things you can do to improve the speed and performance of your WordPress site: 
Use a CDN (Content Delivery Network)
Use a Caching Plugin like W3 Total Cache and WP Super Cache
Use a fast managed WordPress host
Optimize your media files
11. Build High-Quality, Authentic Backlinks 
Building quality backlinks with a good ratio of "dofollow" and "nofollow" in your niche is still one of the most effective SEO techniques to boost your website's ranking. Ideally, the more high-quality inbound links your website has, the higher are the chances of it ranking higher in the search results. A few methods you can use to generate quality backlinks to your WordPress site are:
Create skyscraper content to create top-notch content
Create ego-bait content to attract inbound links
Guest post on popular, high domain authority sites
Do outreach link building
12. Implement Schema Markup
Although Google never announced that schema markup is a ranking factor, it doesn't necessarily mean it doesn't have any positive impact on SEO. Allowing you to deliver better and more engaging data to your visitors, Schema or Structured Markup:
Helps search engines recognize the true meaning of your content
Helps your web pages stand out on SERPs
Increases click-through rates (CTRs) and drives more traffic to your site.
So if your current WordPress theme doesn't have schema markup installed, consider implementing the same either manually or through a plugin to enjoy long-term SEO value and results.
13. Create and Submit an XML Sitemap to Search Engines
An XML Sitemap is a specially formatted file that provides a hierarchical listing of all the pages on your site to help search engines better and faster crawl its content.
While a Sitemap does not affect the ranking of your website, it can be a great way to prioritize certain pages of your site for crawling. As mentioned in the second point, you can use All in One SEO Pack or Yoast SEO to automatically generate a sitemap.
14. Leverage the Power of Local SEO 
No matter if your target audience is local, global or both, you should always optimize your Google My Business Page to stay ahead of your local competition. While it has nothing to do with your website's global ranking, Local SEO can dramatically boost your overall organic traffic by turning local searchers into customers. Keep in mind the following local search ranking factors which are refined by Moz every two years: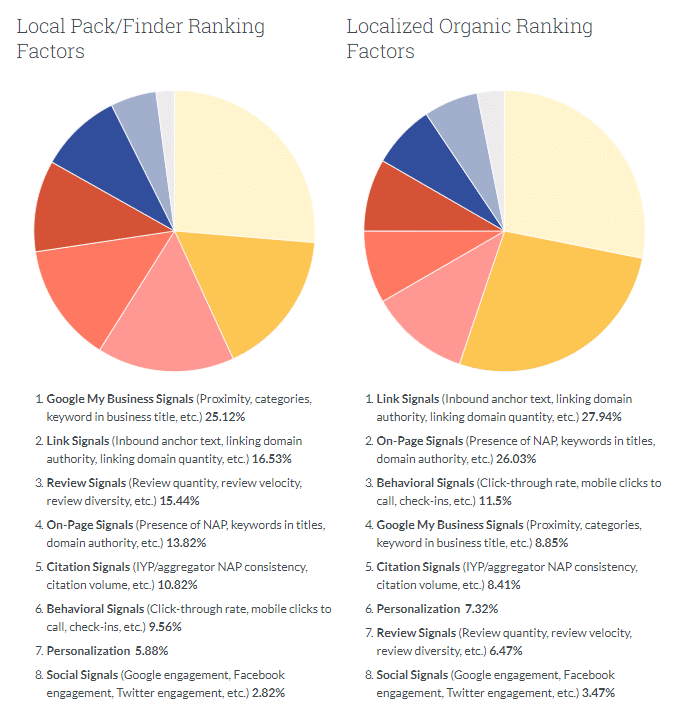 15. Perform SEO Audits Regularly
Finally, to ensure your WordPress site is well-optimized for search engines, perform a quick WordPress SEO audit. But, there is no need to go through every step yourself. Rather, you can take advantage of these SEO auditing tools to simplify the process:
SEMrush
SEO Site Checkup
Varvy
Ahrefs
Given that SEO is an ongoing process, it is recommended you regularly perform an SEO audit of your WordPress site to ensure it continuously ranks well on all of the search engines.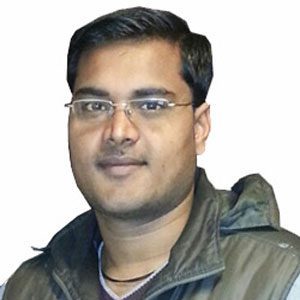 About the Author: Ajeet Yadav
Ajeet is a senior web developer at WordPressIntegration – A WordPress Development Company, where he is responsible for writing custom JavaScript code during the conversion process. In his spare time, he writes on different topics related to JavaScript, WordPress, and Web Design to share his work experience with others.