Every online business owner today wants to make profits! No ambitious entrepreneur likes it when there are zero conversions, no contact form submission, fading online inquiries and orders.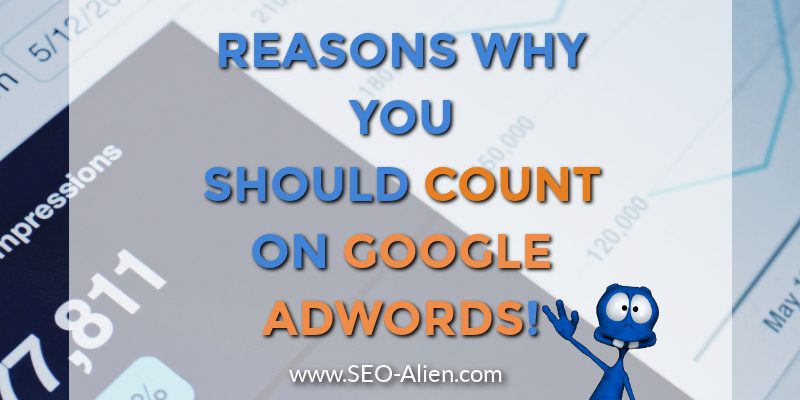 The moment you face this phase in your online business, you sure will have to make some necessary changes to make your pipeline full again. Most entrepreneurs and business persons would love to opt-in for Google AdWords to spike up sales and their business as a whole.
However, in recent times, there have few people who have shared discouraging views about Google AdWords. That made many companies shy away from opting in for the same. Over the years Google AdWords has benefited online businesses in many ways. You can browse through Webmetrix Group Search Engine Optimization to know more on the same and learn more.
There are many reasons to opt-in for Google AdWords. If you are still wondering whether you want to opt-in for Google AdWords or not, you can refer to the reasons discussed as follows:
1. You pay for strategic and quality clicks
When you opt-in for PPC (Pay Per Click) advertising, you only need to pay for those keywords that you bid on strategically. For instance, if you are an SEO professional and you want to create new leads for the SEO agencies close to you, then you have the option to simply bid-on only a specific set of keywords. You will incur a charge only when a person clicks on your ad and lands up in your website.
Based on a Google Economic Impact Report, online companies at an average can generate $2 revenue for each $1 that gets spend on the AdWords. Does any other advertising form come to your mind, with a higher intent to buy? A potential customer is typing his/her query in Google. And your ad copy will populate depending on the keywords that you choose. You will have to pay when a person clicks on the advertisement.
When you do a decent job of monitoring your search terms report and include the negative keywords, you generate favorable web traffic. It is essential to ensure that you bid smart making use of the broad match modifier for better results.
2. You have the chance to outshine big brands
Back in the '80s and '90s, you had to set aside a considerable amount of money to air your advertisement! Thankfully, today you have other options as well. You can have your ad sorted with Google AdWords for as less as $300. You can even spend a lesser amount. This amount that you pay can get ample clicks for you. It also enables you to make the necessary changes, so that you have better conversions.
SEO experts reveal that today over 45% of small business owners' opt-in for PPC advertising. When you start to generate your business conversions, you can maximize your budget. The conversions can happen with contact form submissions or buying anything for an online retailer.
Have you tracked your spending accurately? Can you justify the ROI (Return on Investment) making use of the ROAS (Return on advertising spend) metric? If that's a yes, you have the chance to double your advertising budget. That's what AdWords is all about. It enables online businesses to keep track of their performance. And the moment your campaigns hit success you have the scope to invest more. And just in case you don't see any improvements, you can simply stop it with a click.
3. You need to get creative with restricted characters
Most people are concerned about the quality score in Google AdWords. They feel that by placing the exact keyword on the ad copy, that they are bidding for will enhance their quality score. And it will bring down the cost per click. For instance, if majority if people are bidding on "XYZ Digital Marketing Agency" in their ad copy title, then your ad will have nothing distinguishing about it. So, you need to stop making ad copies that are similar to others.
4. Your mistakes can be costly for you
According to few online market experts, about 61% of the Google AdWords budgets get wasted. A simple error can affect your entire AdWords campaign. Just in case your accountant is not alert and is not careful with the taxes, it might lead to a penalty. With Google AdWords, you can appoint the job to someone who is expert in their task, for instance, a Google Certified Expert. This professional is the apt choice as he will able to address the task at hand better and can also help you save money and time. Being a little patient with your PPC manager is essential. You can also tell your manager that you want to learn the basics of PPC and Google AdWords.
Are you not being able to come up with a search term that can help a person to know more about your business? If you have answered yes to this question, then you could depend on Instagram and Facebook. These social media platforms would help you in a better way. Today, most online businesses can leverage the advantage of Google AdWords and can generate instant web traffic to their websites for a set of relevant keywords. Furthermore, when you implement it well, Google AdWords can act as a boon for your business. Do you want to get started with Google AdWords? If yes, then you can develop a campaign within a few hours o even lesser and can positively impact your existing business. Hence, the use of Google AdWords has always been and will be beneficial.
However, it is essential to use AdWords in the best way that works for you! If you are not aware of the same, it is always a smart call to reach out for an expert and experienced service provider. Today, the online world offers some of the best names of service providers that can help you here. All you have to do is check the authenticity of the service provider or a Google Certified Expert and develop your customized strategy to use PPC and AdWords to your advantage