Content marketing, like SEO, isn't exactly new.
Businesses have been using content marketing as part of their overall strategy for years to inform, entertain and attract new customers.
But what exactly is content marketing and how can it benefit your company?
What is Content Marketing?
Content marketing is the practice of strategically and consistently providing content online in order to attract customers and drive sales or other customer actions. For example, regular blog posts on a company's website (which are then promoted on social media and in e-mail newsletters) are a form of content marketing.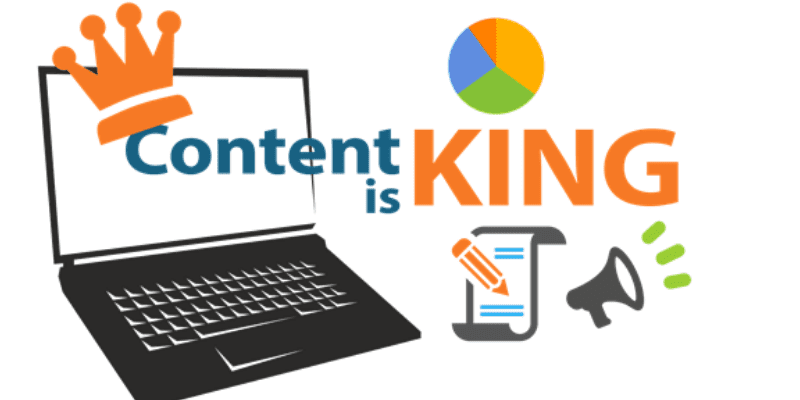 What are the benefits of content marketing in 2018 and beyond:
Improves SEO
More and more businesses are prioritizing digital marketing over their other, more traditional marketing methods. Every business now has a website, multiple social media accounts and probably a blog to match. The result is that the digital space is saturated. Standing out amongst the thousands of competitors and similar businesses online is therefore key.
Publishing regular and useful content is now one of the primary ways to improve your search engine rankings. Thanks to Google's ever-evolving algorithm, longer, more relevant and useful content now ranks higher than short blogs stuffed with keywords for the sake of keywords.
Blogs that offer a good experience for readers and help answer their questions are therefore key to your content marketing strategy. 
Builds your reputation
Well-written and insightful blogs that actually add value for the reader are also a fantastic way to build your reputation as a knowledgeable and trustworthy party in your given industry. By consistently publishing useful content for your audience, you establish yourself as a key player in your arena and customers are more likely to come to you as and when they need the products or services you offer.
For example, any of the wedding bands publishing their ideas for reception music or a list of wedding songs to give couples some ideas for their own wedding. By providing relevant information that their customers can actually use, they prove to the audience that they know what they are talking about and are experts in their field. The band would then be front of mind as and when the customers come round to booking musicians for the big day. 
Increases loyalty
It costs more to gain new customers than it is to keep the business of current ones. Retaining previous and existing customers and gaining their loyalty for an extended period of time is a great way of maintaining and even growing your business.
Consistently providing your customers with useful content is a great way to add extra value to their experience, keep their attention and gain their loyalty. 
Gives you invaluable data
Content marketing to your existing clients is also a great way to gather data on your customers and analyse how successful your products and marketing strategies are. For example, by sending a weekly e-mail newsletter to registered customers, you can analyse the click-through rate each week and assess which products appeal most to your customers. You can then modify your product range or marketing strategies accordingly to achieve better results in future. 
Appeals to millennials
Whether you like it or not, millennials are now the dominant generation in the consumer market and will continue to be so for years to come. Tailoring your marketing strategy and appealing to millennials is, therefore, key to your survival.
Millennials, in general, don't respond well to pushy sales techniques. Instead, they prefer informative blogs, articles, e-books, videos and podcasts that don't necessarily sell anything directly. They are also relatively unimpressed with traditional outbound marketing strategies like TV, radio and magazine adverts. They prefer a more personal and authentic approach. High quality and insightful content that offers added value to the customer is, therefore, a great way of appealing to the millennial market.
Opening up a discussion about said content is also a fantastic way to engage this audience. Don't be afraid of criticism and collaboration when it comes to your content marketing. Invite customers to comment on the content, offer their opinion, give feedback about your services and products and generally have a dialogue. Millennials enjoy feeling involved and like to have their say. 
Conclusion
The old-fashioned approach to content marketing involving short blogs stuffed with keywords is a thing of the past, but content marketing as a whole is here to stay.
When executed well, a content marketing strategy can improve your search engine ranking, help build your reputation, increase customer loyalty and help you appeal to the most dominant generation in the market.
To make the most of your content marketing, make sure you post regular and high-quality content which offers insight, knowledge and value to your customers. Plan ahead and make sure your content is thorough and useful, otherwise, it will drown in the sea of competitor content.
About the Author: Helen Cartwright
Helen is a passionate blogger, who excels in the Digital Marketing and Technology niche. When not wired in marketing strategies she ghost-write for a variety of authors who have their work published on leading online media channels such as The Huffington Post and Entrepreneur.com