March 2017 saw panic among webmasters who witnessed their sites' rankings drop drastically on Google's SERPs.
Websites that depended on advertisements for revenue generation and had a poor quality of content were the most affected; traffic of some sites was reduced by as much as 90%. Did your website lose its rank due to the Fred Algorithm update? Then, here are some guidelines for you.
Recovering After Being Downgraded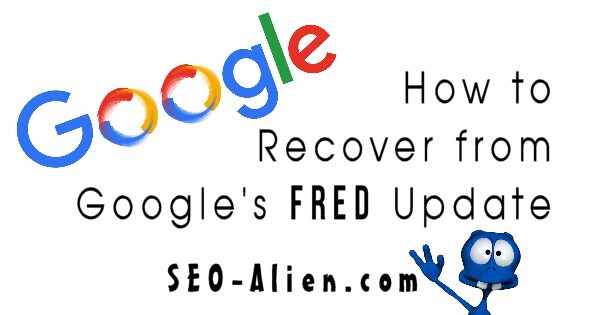 Web design that's visually appealing: You should always remember that websites are meant to be used by human beings so the layout should be instinctively appealing and contents easy to locate with clear navigation.
Because visual appeal can be subjective, you can measure and draw insights by finding out how visitors engage with your website. You also need to define the persona of your target audience and draw inspiration from the design of other sites they are known to use more.
Content of high-quality: More than the article length or the keyword density, you need content that is useful and relevant. The content needs to be fresh, current, and original. Avoid hosting me-too content because Google then arbitrarily promotes one and devalues the others. Don't make every page commercial; try to have content that serves to inform and educate without trying to push sales. It is important to build goodwill for earning the trust of end users as well as Google. Use images, infographics, and videos to communicate better. Try and leverage social media to distribute your content.
Use analytics: With the help of freely-available tools, you should monitor the traffic to your website so that you can figure out the impact of updates on your rank and traffic. Unusual changes should be immediately tackled with corrective action. If you need assistance, talk with a dependable SEO agency like Tayloright.
Analyze your ads:  Even though Google's does not reveal the ad ratio it prefers, you should exercise caution and restrict advertisement volumes to reasonable levels to avoid being penalized. It is necessary for the ads not to be intrusive or affect the user's experience on the site.
Ensure quality backlinks: Irrelevant sites linked to you can drive your rankings down. Request them to be removed or employ the Disavow Tool provided by Google to avoid being penalized. Use a robust link audit tool to track backlinks to your site.
Avoid violation of Google guidelines
It is important for your site to be compliant with the webmaster guidelines issued by Google. You need to avoid common violations like using automatically-generated content, participation in link exchange schemes, using plagiarized or scraped content, having doorway pages, using irrelevant keywords, etc.
Conclusion
The Fred Algorithm update is not the last update Google will announce. To prevent your site from being adversely impacted by the Fred update and those that will invariably follow, you should continuously monitor your website as well as keep track of the Google updates to avoid being penalized. If you keep your focus on satisfying real user needs, you are sure to achieve better ranks.