Developing a condensed one sentence description of a more complex subject can be a frustrating task. But generating immediate interest is what will set you apart.
An enticing and engaging sentence will attract attention and make people curious to learn more.
Below are the Fundamentals of META Tag Optimization
Enter META Tags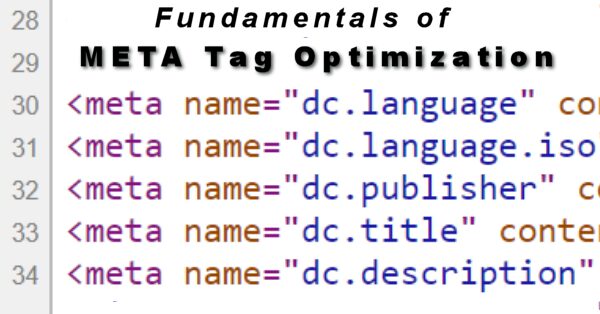 When clients are looking for a product or service they will focus on what interests them and catches their eye. Search Engine results may find your site quickly but it also needs to draw people in. With a META tag and its recently changed 320-character description, you can quickly grab people's attention.
When Search Engine results are displayed there is a list of company names and directly underneath each a brief description. This is the META tag. Creating one for your site with the right description will encourage people to click to your homepage.  With a well-planned META tag there is also a greater chance of them coming to you first, before they move further down the list to find another company that catches their eye.
Wording
Wording is KEY! The most important words should be as close to the beginning and even incorporated in your title page. Google and other Search Engines results assume that the most important words and information are at the beginning. The first thing that your viewers should see should also be exactly what they are searching for.
The META tag functions as a beacon to draw people's eyes and encourage them to find out more. It is also the hook that sparks their interest. Sometimes it is the smallest details that make the biggest impact.
Creating an Effective META Tag
This may seem like an obvious point, but your starting point is to think about keywords you already plan to use in a document or in the description of your company.
From there you need to craft a sentence that encapsulates what you are trying to either say in a particular piece of text, or condense the description of your company or service into a short sentence.  Creating the language for a successful META tag is both a skill and an art.
It is also something that can be further refined by using something called a snippet tool. Snippet tools offer key word search results, so if you understand the phrases and vocabulary that your clients generally use, this will help you be more creative.
Stand Out
Standing out will help develop your brand. It is not enough to say for example "I sell shoes" but rather expanding to something more substantial like "brand name leather shoes for the whole family". Position your words and given them the impact they deserve.
If you get the formula right, you should notice an immediate impact in the number of visitors. Now you just have to ensure that the rest of your content meets the expectations set by your META tag. At the end of the day, it is a tool to draw people in, how you keep them there is up to you!